Big night from Shields (and Myers), and the Royals have a chance
There's no need to rethink the James Shields for Wil Myers trade every day, not even on Monday, when both played big parts in the wild-card race.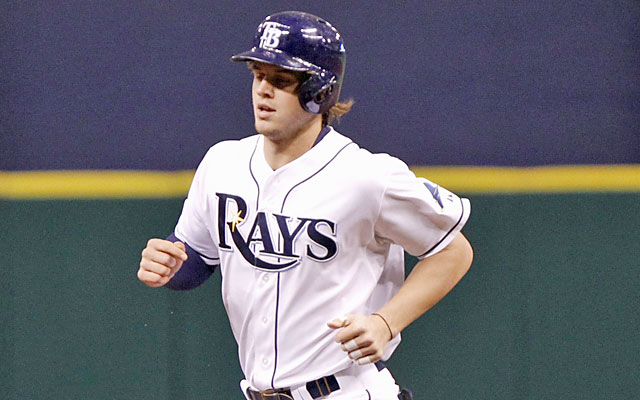 KANSAS CITY, Mo. -- So Wil Myers drives in three runs to lead the Rays to a much-needed win, but James Shields strikes out 10 in six innings to give the Royals a just-as-needed win (with Wade Davis pitching a scoreless inning in relief).
So . . .
Stop it.
There's no reason to rethink last winter's big trade every night, or even on this night. If you can't understand why the Royals made it, a big win from Shields isn't going to convince you -- even as Shields tries to convince you that the Royals can still make the playoffs.
"We can pull it off -- absolutely," he said after the Royals beat the Indians 7-1 on Monday. "We just have to win games. If we can get this thing close going into the [final-week] road trip . . . we've been good on the road."
With 12 games remaining, the Royals are 2 1/2 games out of the final playoff spot, tied with the Yankees and still needing to leapfrog the Orioles (two games out) and the Indians (half a game out). To have any real chance, they probably need to sweep the Indians in the current three-game series, and they may need to sweep three games from the Rangers this weekend, as well.
It's a longshot, but it's still closer than the Royals have been to the playoffs in more than two decades.
Good luck convincing anyone associated with the Royals that they'd be anywhere near this close if they still had Myers and didn't have Shields.
You could actually argue that Myers helped the Royals with his big night Monday against the Rangers. The Rangers and Rays began play Monday tied atop the wild-card standings. The Royals only had to catch one of them, and it seemed they had a better chance to catch Texas than Tampa Bay (especially given the three head-to-head meetings).
Now, it would help the Royals even more if the Rays go on to beat the Rangers two or three more times this week.
"I hope they all lose," Shields said.
Royals people have raved all year about the impact Shields has had, and not just when he has been on the mound (although he's been very good there).
"He likes to fight, no matter what," catcher Salvador Perez said. "And this team fights."
The Royals are more convinced than ever they made the right move last winter. They're more convinced than ever that the big trade helped jump-start the organization towards true playoff contention.
And now, after Shields opened this huge series with a win, they're also convinced that they're still in this wild-card race.
"Yeah, we can do it," Perez said. "For sure, we believe."
With Myers' help, perhaps the Rays now believe, too.