Big Papi is called 'Cooperstown,' but does he belong in Cooperstown?
The David Ortiz Hall of Fame debate comes down to what folks think about one failed survey test from 2003.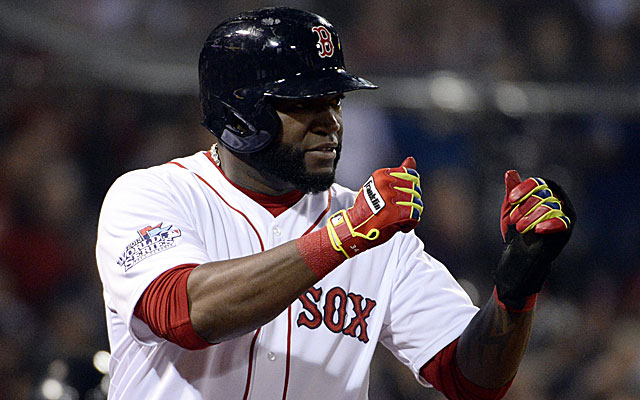 BOSTON -- When Red Sox outfielder Jonny Gomes revealed they all call David Ortiz "Cooperstown" inside that cozy Red Sox clubhouse, Gomes re-ignited what might possibly be the most interesting Hall of Fame debate of them all.
On merit, impact and achievement, Ortiz should easily make it, even if there might be a misguided number cruncher or two who aren't fully convinced the 431 career home runs add up to the Hall of Fame, and perhaps also an old-time traditionalist holding out an anti-DH bias against the all-time DH. Those knocks can be categorized as nonsense.
Ortiz, a major star for more than a decade now and nine-time All-Star, made an indelible impact in Boston and beyond, and is an all-time October performer. He now must be considered one of the greatest World Series and postseason players ever, a man who helped lift a historic franchise that hadn't won a World Series for 85 straight years to three titles in 10 seasons, and who carried his teammates on his back with his deeds and his words in his remarkable third winning World Series. Impossibly, his 1.372 OPS in those three World Series is just a tick less than 50 percent better than his still sterling lifetime mark of .930.
Between  the necessary Game 2 grand slam that turned around this year's ALCS, spoiling the Tigers' rotation from heaven and effectively ending iconic manager Jim Leyland's career 10 days before its time, and a Fall Classic he absolutely owned against the youngest, hardest-throwing pitching staff on the planet, Ortiz's last fortnight clinched his place among the pantheon of baseball's October greats. His .688 batting average and 1.948 OPS in a six-game World Series are hard to believe. It was like a giant among Little Leaguers.
Unfortunately, Ortiz's Hall-of-Fame case isn't quite as simple as his loving teammates may believe, and of course it has nothing to do with lifetime stats or his lack of a position (until the World Series, that is, when he showed he could live up to his team's billing as "adequate" at first base). The only real issue, of course, is the steroid issue, and as we've seen from past votes, it is not an issue to be dismissed or even taken lightly.
The detractors really have their fangs out now. Sure, some of them can be classified as annoyed Yankees fans who unreasonably want to compare Ortiz to Alex Rodriguez, who the evidence likely suggests was forever "loosey goosey" (except when it mattered most in the big moments, when he usually tensed up).
It is unfair to Ortiz to waste too much time on any A-Rod comparison, but for the record MLB has what's been described as a "mountain" of evidence on A-Rod, allegedly including 100 or so texts between Rodriguez and Miami steroid dealer/all-around no-goodnik Anthony Bosch, accounting for the 211-game penalty levied against Rodriguez. And that doesn't even touch his well-known relationship with HGH doctor to the stars Anthony Bosch, his predilection for "Boli" and all the other misdeeds he's engineered in his Greek tragedy of a life, including the 60 Minutes report he leaked the Biogenesis involvement of Ryan Braun and Yankee Francisco Cervelli, who accepted their suspensions. (So while Ortiz lifts teammates, Rodriguez is reported to have exposed a teammate.)
Ortiz is no A-Rod, as anyone reasonably can conclude. But that doesn't mean he gets a free pass, either, not without a serious consideration of the facts. With even more accomplished players than Ortiz such as Barry Bonds, Roger Clemens and others omitted from Cooperstown to date, it wouldn't be right not to at least consider the case against Ortiz. A great nickname, way with words and penchant for maximizing the moment doesn't win Big Papi a free pass. So the case against must be considered.
Here it is …
1. Ortiz was one of 104 players to fail MLB's 2003 steroid survey test.
2. Ortiz was a marginal player until he got the Red Sox in his late 20s, then took a giant leap to become Manny Ramirez's co-equal runningmate, and he has remained great even into his late 30s after looking like he might be nearing the end at least a couple different times a half-decade ago, especially at age 34 in April and May of 2009. (He has made nine All-Star teams in 11 seasons in Boston after going zero for six in Minnesota.)
3. A giant bear of a man, he once seemed like the nicest guy in the world, but more recently has shown occasional signs of surliness and one classic fit of temper, that time in Baltimore this year he smashed a dugout phone to smithereens, then didn't think he deserved a five grand fine, which was almost exactly his pay for that half inning. (He has appealed.)
4. He knows Manny well.
Items 2, 3 and 4 aren't actual evidence, of course, though No. 2 might bring added suspicion. Which means the entire case against him, reasonably, is based on the '03 failure.
Even though the New York Times report of the failed survey test was based on unnamed sources, it's safe to assume it's true based on Ortiz's reaction to it, which was to say he was "blindsided" by it, then mostly to ignore it and wish it away. He never really gave a great explanation (he didn't give much of one at all), so that doesn't help. And while he was unfortunate to have his name become one of the four names that's leaked so far, that doesn't change the fact he failed.
It's possible Ortiz did nothing more than inadvertently take a laced supplement in the year before penalties were tied to failures. Even so, it isn't necessarily unreasonable to omit Ortiz based on this one serious mistake. Players who took steroids or even laced supplements gained an unfair advantage, and I have never voted for anyone linked to steroids. What's more, by 2003, the loosey-goosey days were clearly a thing of the past, though we were still a year away from getting into the penalty phase, which came about only because more than 5 percent of players failed in 2003.
The case against Ortiz otherwise remains thinner than Clay Buchholz, especially compared to some other big stars. Bonds was tied to Balco and found guilty of obstruction of justice. Clemens' long-term cheating ways are explicitly outlined in MLB's Mitchell Report, even if a jury of know-nothings was easily fooled by a slick defense attorney confusing them by attacking the accuser. Ramirez failed for drugs enough that he'd only have the vote of his pharmacist.
Some Hall of Fame voters will exclude players with any link to steroids, no matter how strong that link is, but in this case it fairly boils down to one un-sourced report involving a test for survey purposes.
Is that enough to exclude? Not here it isn't.
Cooperstown it is.