Big question: Should Cano be closer in contract to Wright or A-Rod?
New agent Brodie Van Wagenen and the Yankees have had a preliminary talk or two, but there's no proof yet they've closed what could be a major gap between the contracts of David Wright and Alex Rodriguez.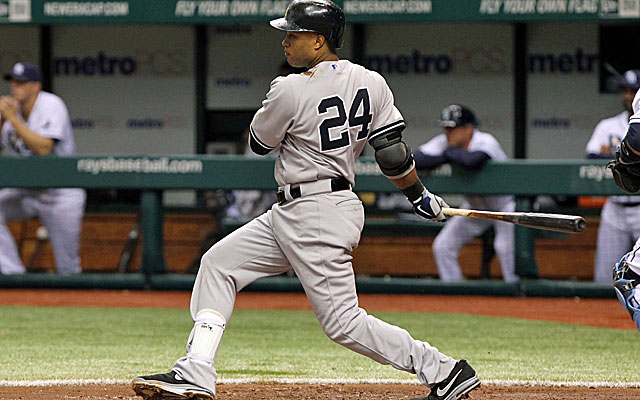 Just about everyone around baseball figures the Yankees and their star second baseman Robinson Cano will eventually figure it out and agree to a new contract to keep Cano in pinstripes for a very long time. But before they do, they'll have to deal with two well-known contracts signed by two other New York baseball superstars, two contracts which are wildly divergent, people familiar with the issues say.
One is the $138-million, eight-year deal Mets star David Wright signed only several months ago. The Yankees, according to sources, prominently mentioned this contract in their Cano talks in hopes of using it as a "comp,'' the baseball shorthand for a comparable contract used in negotiations.
The other "comp'' in question in this case was for almost exactly double that Wright deal, which could make things tricky. Alex Rodriguez's record $275-million deal, agreed to by the Yankees and Cano's former agent Scott Boras, is a comp Cano's new agents are sure to try to mention.
That represents a potential gap of $137 million, or an amount that almost exactly equals Wright's whole contract. Bridging that gap would seem to be a daunting task. But fortunately there are other contracts between those two that may prove more helpful in the end.
Yankees general manager Brian Cashman declined to comment. Cashman had said aloud this spring that the Yankees had made a "significant offer'' to the free-agent-to-be Cano, then later joked that he had made his "Joe Biden gaffe'' by revealing  there'd be an offer when the party line technically was that there'd only been "negotiations,'' so it's no surprise he's staying away from the subject. (Though it's not exactly clear what the distinction is between an "offer'' and negotiations.)
Brodie Van Wagenen, a co-head of the baseball division of CAA who has taken over for Boras in representing Cano and will be handling all the negotiations, also declined comment. (Cano's other new agent pick Jay-Z recently applied for certification, which is expected to be under review for weeks, if not months.)
Word is, Van Wagenen and the Yankees so far have had only very preliminary talks in which the highlight apparently was an agreement to talk further at a later date. So it isn't known how much closer they are than the potential $137 million gap, but it's possible they may already be somewhat closer.
While the A-Rod and Wright contracts have little in common, some points can be made for either as a fair comp for Cano, who makes $15 million this season, the last year of a six-year extension signed before 2008. Regardless, the reality is that neither side can reasonably expect the deal to be particularly near either one of those two comp contracts, not if they want it to get it done.
The big plus, of course, is that both sides would appear to very badly want to reach a deal.
The Yankees abandoned their long-established rule not to negotiate before free agency and started talking about a deal this spring with Cano. And Cano, who was always suspected of hoping to stay, practically confirmed it by hiring big Yankees fan Jay-Z as his agent. (Jay-Z, without certification, experience or knowledge in this arena, in turn enlisted CAA to handle talks for now).
Big-time stars such as Cano don't often sign with months to go before free agency, but in this case, where both sides have shown strong indications of wanting to keep the relationship going, the strongly-held belief around baseball is that they'll figure it out.  But before they do, they are going to have to resolve the many comps, including the Wright and A-Rod comps.
The Wright comparison has more merit than one might think, though there's almost no chance Cano will be settling for anything close to that. Wright, like Cano, is 30. And perhaps to the surprise of some, Wright actually has produced similarly to Cano, even slightly better by some standards.
Wright, for instance, has a higher lifetime OPS than Cano, .888 to .857. But Cano's new reps can counter that by pointing out recent career trends, which favor Cano. Also, Cano plays second, a position which traditionally isn't manned by big producers or power hitters.
But Cano's main point to counter Wright is that the Mets' star signed such a team-friendly deal that it should be ignored. Despite having better power numbers, playing in New York and being closer to free agency than Nationals third baseman Ryan Zimmerman, the annual salary in Wright's contract is very similar to what Zimmerman receives in his $100-million, six-year deal that was negotiated coincidentally by Van Wagenen. Wright's deal is also barely better than non-power hitter Elvis Andrus, the Rangers' fine shortstop who signed for $120 million over eight years.
Meanwhile, Yankees people will counter the A-Rod comp by pointing out, first and foremost, that they now believe that deal to have been a mistake. But beyond that, the Yankees will undoubtedly try to explain that while Cano is a terrific player, he isn't A-Rod, meaning the pre-scandal A-Rod who in 2007 was coming off a 54-homer, 156-RBI season. That is true.
Likewise, the Yankees will probably also have to delicately try to suggest that while Cano is great, he isn't Derek Jeter, either. Jeter signed a $189-million, 10-year deal with the Yankees 12 years ago, and that is a deal hanging over these talks, too. Since that deal was signed more than a decade ago, when baseball's revenues were about half what they are today, Cano's side could claim he deserves more than that.
The Yankees are thrilled with that Jeter deal, so there is no claim of a "mistake'' there. Their contention is likely that Jeter falls into a special category as an iconic shortstop with five World Series championships who signed that deal at age 26 with four rings already in his possession.
A-Rod, a three-time MVP at the time of his deal, also put up a better act that he was open to leaving the Yankees, thanks to his decision to opt-out of his original Rangers/Yankees $252-million deal and make himself a free agent. Meanwhile, Cano to some degree has shown his hand by leaving A-Rod's old agent for a man who's made the Yankee hat even more famous than a Yankee can (or so Jay-Z sang). That could potentially cost the second baseman some leverage, especially if he gets to free agency and other teams wonder if he's serious about leaving.
Regardless, the Yankees aren't about to repeat the A-Rod contract for a player who hasn't won MVPs like A-Rod or hit in the postseason like Jeter, no how much they love Cano, and they do like him very much. And Albert Pujols, who got $240 million, is an alltime great. So the Yankees won't want to go there, either.
Cano could try to point to Joey Votto, who got a $225-million, 10-year extension a couple years back from the small-market Reds.But Votto has won an MVP, is slightly younger and has better numbers than Cano (a .967 OPS, for instance). Prince Fielder, who got $214 million for nine years, is another player who could come up.
Other comps that may be mentioned include Twins catcher Joe Mauer ($184 million), Yankees first baseman Mark Teixeira ($180 million), Giants catcher Buster Posey, the 2012 N.L. MVP ($167 million on a CAA deal) and Dodgers outfielder Matt Kemp ($160 million). All those comps are fine, but it's possible Posey could be a bigger part of the discussion since he's a CAA client. Posey, a two-time World Series champion, is to get $20 million in his first free-agent year, then $21.4 million in subsequent free-agent years, finishing with a $22-million club option.
Ultimately, though, Cano's best leverage may come from the Yankees' obvious need to keep him. While he isn't A-Rod or Jeter in terms of career achievements or icon status, he is the Yankees' one megastar currently in his prime. A-Rod is nearing the end (though not of the contract, as the Yankees lament), Jeter will be 39 in June before he returns from his severe ankle injury and all their other big names are older than Cano, as well.
A lot of names and comps will be thrown out into the mix of these negotiations. But in the final analysis, the question may come down to a couple simple questions. One is this: Should Cano be closer in contract to Wright or A-Rod?
Or more simply put: Is Cano a $200-million player, or not?
Show Comments
Hide Comments