Blue Jays and Orioles vying for Ervin Santana; who needs him more?
Two AL East clubs are trying to sign Ervin Santana. Which club would he help more? The one closer to postseason contention.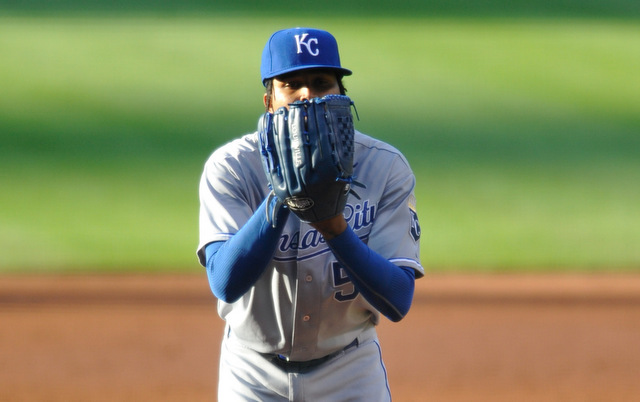 MORE: Spring Training | Scoreboard | FA tracker: hitters | FA tracker: pitchers
On Saturday, Jon Heyman of CBSSports.com reported both the Blue Jays and Orioles were discussing a one-year contract will free agent right-hander Ervin Santana. The offers were said to be in the neighborhood of $14 million, similar to the qualifying offer he rejected from the Royals earlier in the offseason.
Talks reportedly continued throughout Saturday -- a 5pm ET deadline was even reported, though it came and went with no decision -- and figure to continue for the next few days. We know Santana is open to taking a one-year contract and prefers a good offensive team, something that describes both the Blue Jays and Orioles, but which team needs him more?
Baltimore got their big name starting pitcher a few weeks ago, when they signed Ubaldo Jimenez to a four-year, $50 million contract. Toronto has done ... well, nothing much this winter. They signed catcher Dioner Navarro but that's pretty much it. Their current rotation is the same one they had last year, only with Josh Johnson being replaced by an internal fifth starter like Drew Hutchinson, Todd Redmond or Marcus Stroman.
Both teams have a lot of bodies for the rotation but very few of them are better than Santana. Heck, I think you can make a pretty strong case Santana is better than any pitcher on either staff based on 2013 performance. Here are the ZiPS projections for both club's current rotations (projections via FanGraphs):
2014 ZiPS: Blue Jays
2014 ZiPS: Orioles
Pitcher
WAR
Pitcher
WAR
R.A. Dickey
3.1
Ubaldo Jimenez
3.1
Brandon Morrow
2.2
Chris Tillman
2.7
Mark Buehrle
2.0
Wei-Yin Chen
2.3
J.A. Happ
0.9
Bud Norris
2.2
Marcus Stroman
1.2
Miguel Gonzalez
2.1
Total
9.4
Total
12.4
Hutchison (projected 0.5 WAR) and Redmond (-0.3) lag behind Stroman according to ZiPS, so let's given the Jays the benefit of the doubt and go with the best projection. Baltimore has Kevin Gausman (projected 1.9 WAR) waiting in the wings as their sixth starter. Santana projects for only 1.7 WAR, mostly because he was terrible in 2012 (5.16 ERA and -1.0 WAR).
The Blue Jays would plug Santana into Stroman's spot, not Happ's. I assume the Orioles would replace Norris with Santana since the talk about putting Norris in the bullpen has been loud for a while now. It's not crazy to think he could wind up taking over as their closer. The opportunity is there. Based on the ZiPS projections, it's obvious Toronto needs Santana more. There is more to it than that though.
The Jays were one of the biggest disappointments in baseball last season, finishing in last place at 74-88 and 17.5 games out of a wild-card spot. The Orioles went 85-77 and were 6.5 games out of a wild-card spot. Baltimore got better this winter by adding Ubaldo and Nelson Cruz. Toronto will be better because Navarro is an upgrade over J.P. Arencibia, but that's it. That was their only notable move.
Given where they are expected to finish in the standings, the value of the extra wins added through Santana is greater to the Orioles than the Blue Jays. The Jays might be a last place team again, and when you finish in last place, there is no difference between 77 wins and, say, 84 wins. The O's are on the postseason bubble though, and every win they add to their roster helps their chances of going to October greatly. Going from 77 wins to 84 wins means nothing, but going from 85 wins to 91 or 92 wins means a lot*.
* The draft pick compensation is negligible. The Blue Jays have two projected first round picks, so they'd only have to surrender a second rounder to sign Santana. The Orioles have already forfeited their first and second round selections for Jimenez and Cruz, so Santana would only cost them a third rounder. Giving up a second or third round pick isn't that big of a deal. The first rounder is the one that stings and that is a non-issue here.
Because they have a better shot at qualifying for the postseason based on last year and their offseason moves, the Orioles need Santana more. Remember, he wouldn't be replacing Norris. He'd push Norris to the bullpen, and Norris would replace the last reliever on the staff, possibly a replacement level arm. Santana would help the Jays, no doubt about it, but they will still need a lot to go right to contend. The Orioles are on the bubble with the roster they have right now, and adding Santana would improve their postseason chances far more than he would Toronto's. The value is every win added to Baltimore's roster is much greater right now.
Show Comments
Hide Comments