Blue Jays' Josh Johnson clears waivers; chances for trade unknown
No team claimed waived starter Josh Johnson, who is struggling through a rare off year.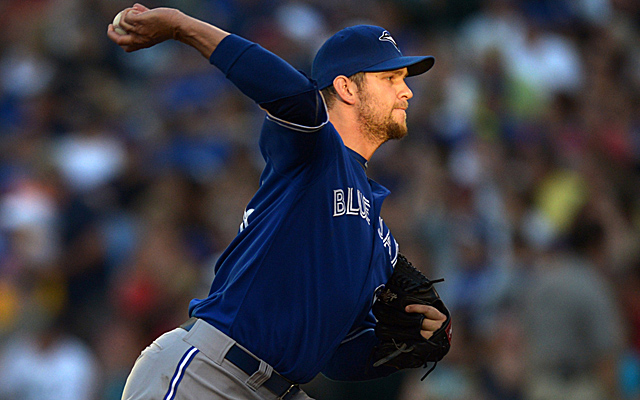 Blue Jays starter Josh Johnson has cleared waivers, sources tell CBSSports.com.
Johnson, one of the best pitchers in the game a few years back, is now eligible to be traded to any other team -- though, the likelihood of that isn't known as a couple factors could limit the chances for a trade.
With the Jays seemingly out of the race, a trade for Johnson -- who showed signs of getting his old form back in his last start -- would seem to make sense. However, there were signs at least earlier the Jays were thinking of extending Johnson a qualifying offer, which if declined would net them a coveted draft choice. Though it would still be a surprise if the Jays made a qualifying offer, expected to be close to $14 million, to a pitcher with an ERA over 6, but it is believed they've at least been weighing that possibility.
Johnson makes $13.75 million this year, coincidentally almost exactly what the qualifying offer is expected to be. A claiming team would have been on the hook for about $4 million through the rest of the year.
Trade interest in Johnson could be limited by a season in which he is 2-8 with a 6.20 ERA, though he did throw five shutout innings in a 7-2 victory over the Mariners last time out. Johnson's slump this year -- opposing hitters are batting .305 against him -- is stunning. "Every scout would tell you he was one of the two or three best pitchers in the National League a couple years ago,'' one NL scout said.
Johnson's ERA, 1.64 in a season shortened by injury a couple of years ago, rose to 3.81 last year and is up even more this year.
Show Comments
Hide Comments
Our Latest Stories
Kazmir will begin the season on the DL

Tebow struck out twice against Scherzer and got a taste of an elite fastball

It seems unlikely Las Vegas will be atop MLB's list of destinations whenever they expand or...
The Raiders are moving to Las Vegas, but the A's remain committing to staying in Oakland.

Canseco is joining NBC Sports California to provide Athletics coverage this year

Mike Trout played a little prank on the Angels former pitching coach with the help of his...