Blue Jays manager John Gibbons rips Jose Bautista for ejection
Blue Jays manager John Gibbons tore into Jose Bautista for getting ejected from Sunday's game.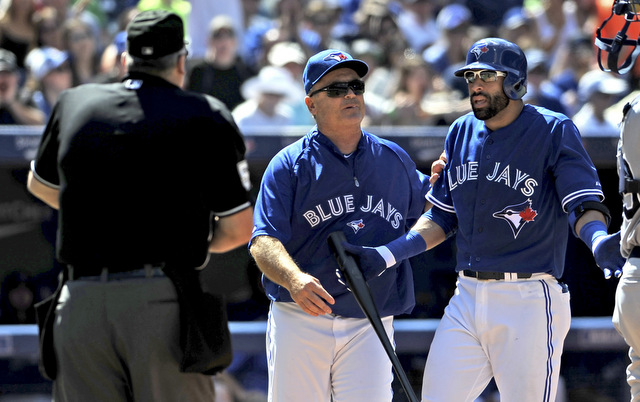 Following Sunday's extra-innings loss to the Rays (TB 2, TOR 1), the Blue Jays slipped to 5½ games back of the Mariners for the second wild-card spot. Toronto is 6-14 in August.
Slugger Jose Bautista was ejected by home plate umpire Bill Welke for arguing balls and strikes in the sixth inning. Afterward, manager John Gibbons tore into Bautista for getting ejected in such an important game. Here's what the skipper told Richard Griffin of the Toronto Star:
"The bottom line is we needed him in the game," Gibbons said of Bautista. "Say your piece and get the hell out of there. We're trying to get in the playoffs, we need you on the field. He's a marked man in this game. [Plate ump] Bill Welke? I thought he had a pretty good [strike] zone today. It was steady, he was calling strikes. He was looking to call strikes. But we need you in the game."
Bautista was replaced in right field by Nolan Reimold, who dropped a fly ball in the top of the 10th to set up the game-winning run for the Rays. Reimold also struck out with two men on base in the bottom of the 10th to end the game.
Gibbons is right, of course. Bautista is far too important to the team to get thrown out of a game at this point of the season, especially considering the Jays' recent struggles. Usually managers will back their players, or, at worst, remain neutral in situations like this. Kudos to Gibbons for calling it like it is.
And, for the record, here is the strike zone plot for Bautista's final at-bat, courtesy of Brooks Baseball: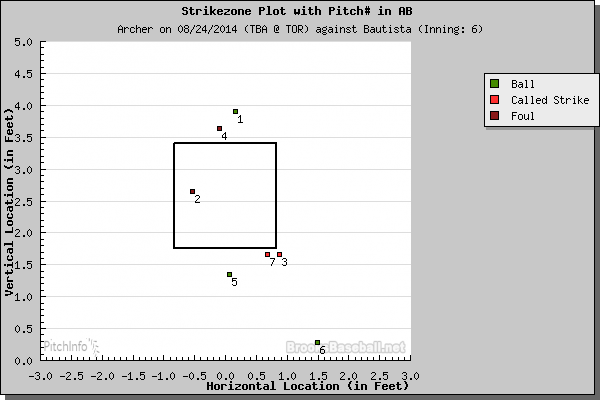 Pitches 3 and 7 were borderline, especially in an age where the low strike is being called more than ever. Jon Roegele of The Hardball Times wrote about the expanding bottom of the zone back in January.
Bautista, 33, is hitting .284/.399/.500 (150 OPS+) with 24 home runs and 77 RBI this season.