Bob Melvin rips team after A's get swept by Angels in four games
After being embarrassed by the Angels this weekend, Bob Melvin tore into his A's Sunday.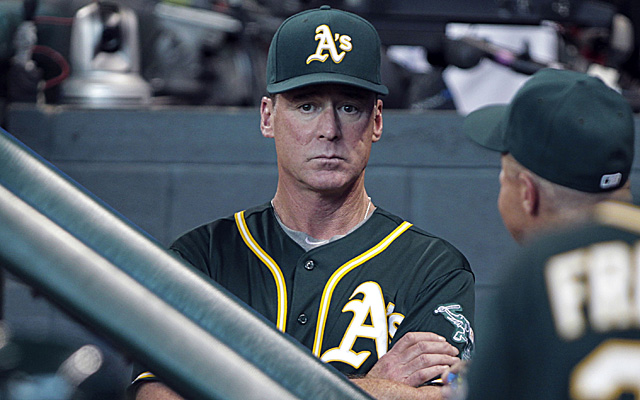 In a series that saw the Oakland Athletics outscored 18-4 by the Los Angeles Angels, the A's were swept in four games and fell to five games back in the AL West. Not surprisingly, A's skipper Bob Melvin was none-too-happy after Sunday's 8-1 loss.
"It was embarrassing, pathetic. We don't play like that," Melvin said after Oakland's 8-1 loss, which completed a four-game sweep by the Angels. "We don't play like that. The last three games here are the worst I've seen this team play in I don't know how long. I feel bad for our fans to have to watch that."

---

"The reason that I'm upset is that is not who we are, that's is not who we've been for three years," Melvin said. "It's mounted. It's been frustrating. … They all should be embarrassed."
Not only that, but Melvin reportedly "let his team have it" behind closed doors before meeting with the media.
The A's finish August with a 12-17 mark, after previously having a winning record in every full month of the season. They only scored 103 runs in the month, compared to 130-plus in April, May and June, respectively.
The A's still have a hold of the top AL wild-card spot with a month to go. They'll start a six-game homestand Monday against Seattle, with Houston being the other opponent. They do get one more crack at the Angels, which is a three-game series from Sept. 22-24 in Oakland.
Show Comments
Hide Comments
Our Latest Stories
Kinsler seemed to disparage players from Puerto Rico and the Dominican Republic for showing...

From Adam Jones' catch to Jose Bautista's throw. Here are the best moments of the 2017 WBC

What makes a successful Phillies season? First off, the youngsters need to keep progressin...
How a chance trip to the WBC championship game turned me from skeptic to believer

Jim Leyland's USA team won the World Baseball Classic, and he was emotional

The United States wrapped up the 2017 World Baseball Classic championship on Wednesday nig...