Braves a possibility to join fray for White Sox righty Jake Peavy
They are considering starting pitchers, especially after losing Tim Hudson, and Jake Peavy makes sense for Atlanta.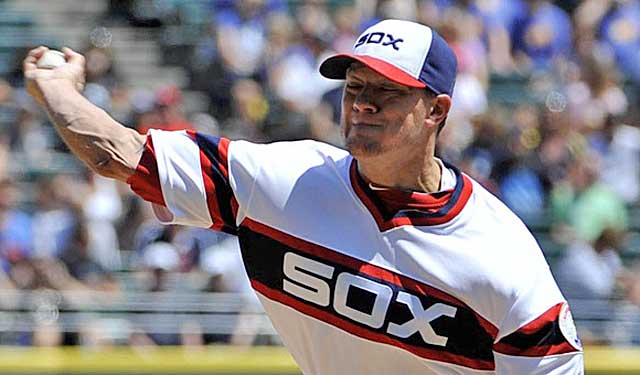 The Braves could become a wild card in the pursuit for White Sox right-hander Jake Peavy.
Atlanta is now surveying the starting-pitching market more seriously after losing veteran righty Tim Hudson for the year, and Peavy could make a fine rotation replacement for Hudson. Danny Knobler wrote about Atlanta's changing interests after Hudson suffered a broken ankle in a freak play at first base against the Mets.
The Red Sox, Cardinals and A's are seen as teams possibly at the forefront of the Peavy sweepstakes.
The Braves came close to a mega-trade for Peavy several years back. He's enhanced his value by pitching well after recently returning from a fractured left rib.
Peavy makes $14.5 million a year through next year, so he's not only a rental. Unlike last time he was traded, Peavy does not have a no-trade clause. He has has seemed fine with going to a contender, anyway.
The Braves have been connected to Bud Norris as well, but Peavy may be a better fit. Ervin Santana is another starting pitcher who's at least semi-available.  The Royals and Braves have front-office connections, so they'll surely discuss such a possibility.
Show Comments
Hide Comments