Braves should consider a reunion with Javier Vazquez
The Braves traded their projected fifth starter to the Diamondbacks as part of the package for Justin Upton, and they should consider a reunion with Javier Vazquez to fill out the rotation.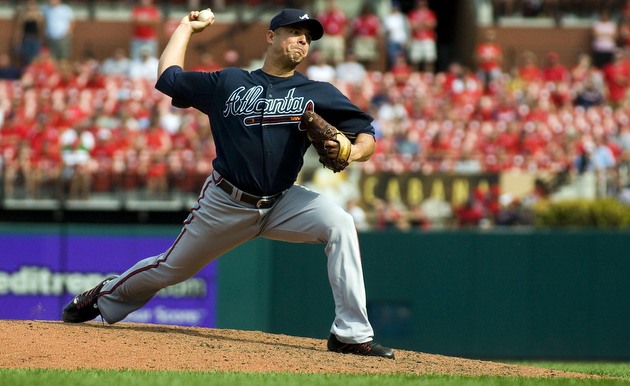 Vazquez did not pitch in 2012. (US Presswire)
Late last week the Braves completed one of the most significant deals of the offseason, acquiring Justin Upton from the Diamondbacks in a seven-player trade. Martin Prado headlined the four-player package going back to Arizona, but Atlanta also surrendered projected fifth starter Randall Delgado in the move. The Braves have pitching depth, especially since Brandon Beachy is due to return from Tommy John surgery at midseason, but there is always room for more.
At the moment, the Braves have a solid front-four featuring Kris Medlen, Tim Hudson, Paul Maholm, and Mike Minor. The fifth spot is up for grabs with top prospect Julio Teheran the presumed front-runner. The 22-year-old right-hander owns a 5.19 ERA in three very brief big league stints over the last two years, and it's worth noting he pitched to a 5.08 ERA with 18 homers allowed in 131 innings down in Triple-A in 2012. Teheran has star potential but is a work in a progress, and a club that is "all-in" like the Braves might prefer a veteran stopgap.
Down in his native Puerto Rico, former Brave Javier Vazquez is drawing rave reviews for his winter ball stint. The 36-year-old right-hander has pitched to a 3.52 ERA with 30 strikeouts and just six walks in 23 innings (five starts), and recent reports indicate his fastball is living in the 92-95 mph range. Vazquez is considering a return to the big leagues after a one-year hiatus, though he is supposedly in no rush to sign. He's also made no secret of his desire to pitch close to home on the East Coast throughout his career.
Obviously the Braves and Vazquez are familiar with each other following the veteran starter's brilliant lone season with Atlanta in 2009. He went 15-10 with a 2.87 ERA, 9.8 K/9, and 1.8 BB/9 in 32 starts that season, good enough for a fourth-place finish in the NL Cy Young voting. He was traded to the Yankees after the season and things again fell apart for him in New York (10-10, 5.32), but Vazquez rebounded with the Marlins (13-11, 3.69) in 2011 thanks in part to a midseason velocity spike. That chart leads me to believe he was either hurt or a mechanical mess.
Players coming out of quasi-retirement to resume their careers isn't unheard of; in fact Andy Pettitte returned to the Yankees last season after sitting out all of 2011. He missed time after getting hit by a comebacker, but otherwise he was highly effective (2.87 ERA in 12 starts). My running theory is that for older pitchers like Pettitte and Vazquez, the year away helps their body recover from all the nagging soreness and whatnot. Hitting is a timing and rhythm thing and I'm not sure how good a year off would do a position player, but I digress. If Vazquez is throwing as hard as reported in winter ball, it's a pretty good indication he's healthy.
According to Cot's Baseball Contracts, the Braves currently have about $82.8 million in contracts for next season. They still have to sign their pre-arbitration-eligible players, though, the guys who will make close to the league minimum. It appears the team has some financial wiggle room left if it's willing to open 2013 with a payroll similar to its 2011-2012 levels ($90-93 million). Vazquez would have to come cheap just to make a reunion work financially in all likelihood.
By no means is signing Vazquez a necessity for the Braves. They have five viable starters right now with Beachy due to return during the summer, so adding another arm would be a luxury. The Braves likely scouted Vazquez during winter ball just out of due diligence, plus the two sides already have a relationship in place. There's an obvious fit here -- the team could give Teheran more time in Triple-A and Vazquez would be pitching for a contender close to his Puerto Rico home -- so if nothing else, it's probably an idea worth exploring.
For more baseball news, rumors and analysis, follow @EyeOnBaseball on Twitter, subscribe to the RSS feed and "like" us on Facebook. Also, individually interact with us on Twitter: @MattSnyder27, @daynperry and @mikeaxisa.

Show Comments
Hide Comments