Breaking down Moises Alou's Hall of Fame candidacy
Long-time big league slugger Moises Alou is on the Hall of Fame ballot for the first time this year. Is he worthy of enshrinement?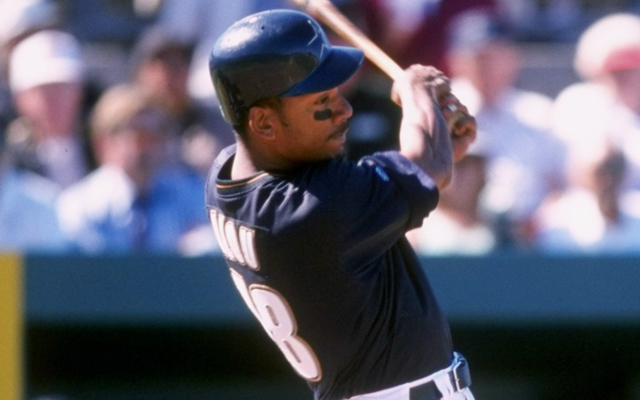 Hall of Fame: Cox, La Russa, Torre get in | Miller snubbed | Steinbrenner's complicated case | Checking out the one-and-done candidates | Does Luis Gonzalez have a case?
The BBWAA Hall of Fame announcement is less than a month away, and since the hot stove figures to cool down during the holidays, we're going to take advantage of the downtime by breaking down each of the Hall of Fame candidates individually.
The idea is simple: we'll attempt to paint an argument as each player being a Hall of Famer and then create an argument as to why the player is not a Hall of Famer. Some will be easier than others -- the case against Greg Maddux might be a sentence or two long, for example -- but most are not that obvious. When we're done, you can decide for yourself if the player is Cooperstown worthy.
Today we're going to tackle outfielder Moises Alou, who suited up for the Pirates, Expos, Marlins, Astros, Cubs, Giants and Mets in his career.
THE BARE ESSENTIALS
Alou played in parts of 17 big league seasons and missed two others (1991 and 1999) to injury. He was a career .303/.369/.516 (128 OPS+) hitter who finished with 2,134 hits, 421 doubles, 332 home runs, 1,287 RBI and 106 stolen bases. Alou was a six-time All-Star and finished a distant second to Eric Karros in the 1992 NL Rookie of the Year voting. He received MVP votes in six seasons and finished third in the voting twice (1994 and 1998). He also won a World Series with the 1997 Marlins.
THE CASE FOR INDUCTION
Outside of the 1990 season, when he made his MLB debut with 23 late season games, Alou never once finished a year with a sub-100 OPS+. All the guy did was mash. In his worst full season he posted a 100 OPS+ on the nose (2002 with the Cubs) but otherwise he never dipped below a 107 OPS+. Born to hit.
Alou's five-year peak from 1997-2001 featured Hall of Fame caliber production. He hit .321/.395/.561 (144 OPS+) with an average of 35 doubles, 33 homers and 131 RBI per 162 games played during that stretch. Alou was productive pretty much right to the very end, hitting .341/.392/.524 (137 OPS+) with 13 homers in 87 games in his second-to-last season.
In addition to his regular season exploits, Alou played a crucial role in the Marlins' 1997 World Series title. He led off the ninth inning of Game 7 with a single against Jose Mesa and eventually came around to score the game-tying run. It's not as memorable as Edgar Renteria's game-winning single, but he did set it up. Alou hit .321 with three home runs and nine runs driven in during the series, his only Fall Classic.
In terms of historic standing, Alou ranks 162nd all-time in batting average, 273rd in on-base percentage, 67th in slugging percentage (sandwiched between Shoeless Joe Jackson and Edgar Martinez), 81st in OPS (just ahead of Harmon Killebrew), 190th in OPS+, 209th in hits, 147th in doubles, 101st in home runs and 115th in RBI.
THE CASE AGAINST INDUCTION
Alou was essentially a one-dimensional player. He was a below-average defender but not a total disaster in the outfield, which is why he ranks 271st all time with 41.1 oWAR (the offensive component of WAR) but only 319th all-time with 39.7 WAR overall. Alou was an offense-first player in an offense-heavy era, hence the discrepancy between his career OPS (81st all-time) and OPS+ (only 190th all-time).
For lack of a better term, Alou lacks a "signature moment." If anything, his signature moment came in the Steve Bartman game during the 2003 NLCS, when he infamously slammed his glove down and shouted towards the stands following the foul ball. Years later, he told the Associated Press: "You know what the funny thing is? I wouldn't have caught it, anyway."
Alou was not especially durable. He played more than 140 games just five times in 17 years, and from 1992-2005, his stint as an everyday player, Alou averaged only 123 games played per season. He suffered a severe ankle injury in 1993, which sapped him of speed and relegated him to left field for the remainder of his career. Alou also missed the entire 1999 season after falling off a treadmill during an offseason workout and tearing his ACL.
Alou hit .300+ eight times, drove in 100+ runs five times and hit 30+ home runs three times, but he never once led the league in a significant offensive category. In fact, the only time he ever led the league in anything was when he led the NL with 21 ground ball double plays in 2000.
---
So, is Alou a Hall of Famer? He certainly had the longevity and a dominant peak that lands him on the ballot and will earn him votes, but will it be enough to wind up in Cooperstown?
Thursday: The cases for and against Lee Smith.
Show Comments
Hide Comments