Breaking down the one-and-done Hall of Fame candidates
The BBWAA Hall of Fame ballot has 36 names on it this year. At least these 12 guys will fail to land five percent of the vote in their first go-round on the ballot.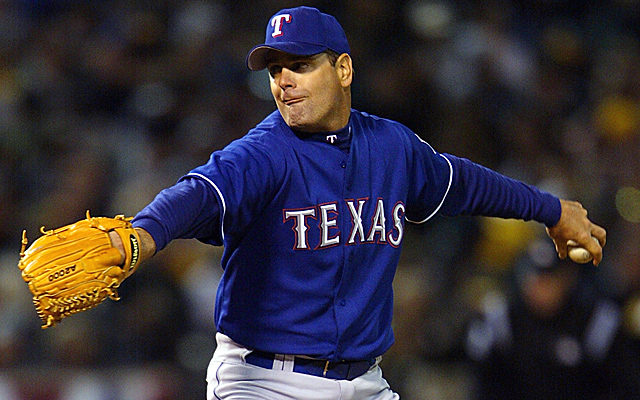 Hall of Fame: Cox, La Russa, Torre get in | Miller snubbed | Steinbrenner's complicated case
We're now only a few weeks from the revealing of the BBWAA Hall of Fame class, which takes place on January 8. In the days leading up to that vote, we'll profile one Hall of Fame candidate per day among those who actually have a shot at getting at least five percent of the vote.
For this first installment, though, we'll give the surefire one-and-done guys their due. That is, these players are on the ballot for the first time and it's also going to be the last time. They did, however, have good enough careers to make it on the ballot, so they'll get a paragraph.
There are 19 first-time players on the ballot. Five (Greg Maddux, Frank Thomas, Tom Glavine, Mike Mussina and Jeff Kent) will easily get more than five percent of the vote and I believe two more (Luis Gonzalez and Moises Alou) have at least an outside shot to get five percent. The following 12 players, however, will not come close and will fall off the ballot this season.
Kenny Rogers
In a 20-year career, the four-time All-Star won four Gold Gloves. He went 219-156 with a 4.27 ERA (107 ERA+), 1.40 WHIP and 1,968 strikeouts in 3,302 2/3 innings. His 219 wins rank 76th in MLB history. In 12 career postseason appearances, Rogers was 3-3 with a 4.15 ERA -- but he closed out his playoff career in dominant fashion, going 3-0 with a 0.00 ERA in 23 innings for the Tigers in the 2006 playoffs. He also threw the only perfect game in Rangers history.
Ray Durham
A two-time All-Star second baseman, Durham played 14 years, hitting .277/.352/.436 (104 OPS+) with 440 doubles, 79 triples, 192 home runs, 875 RBI, 1,249 runs, 2,054 hits and 273 stolen bases. He ranks 145th in baseball history in runs scored, 118th in doubles and 189th in stolen bases.
Hideo Nomo
Nomo might be the one on this list who gets the most votes due to him paving the way for future Japanese players to leave NPB for MLB. He joined the Dodgers in 1995 and enjoyed great success, being an All-Star, winning the NL Rookie of the Year and finishing fourth in Cy Young voting. He went 13-6 with a 2.54 ERA (149 ERA+), 1.06 WHIP and an NL-best 236 strikeouts in 191 1/3 innings.
On his career, Nomo went 123-109 with a 4.24 ERA (97 ERA+), 1.35 WHIP and 1,918 strikeouts in 1,976 1/3 innings.
Richie Sexson
Here's a reminder at how numb we were to huge stats in the so-called "steroid era:" Sexson hit 45 home runs in two different seasons, respectively. He drove in at least 120 runs in three different seasons, too. In his career, Sexson hit .261/.344/.507 (120 OPS+) with 306 homers and 943 RBI. He only accrued 5,604 plate appearances (a little less than 10 seasons' worth), but the power in that time was very impressive. He homered once every 16.1 at-bats, good for 28th-best in MLB history.
Paul Lo Duca
He was a four-time All-Star -- making it for three different teams -- in only about seven full seasons. In his career, which lasted 1,082 games, Lo Duca hit .286/.337/.409 (97 OPS+) with 222 doubles, 80 homers, 481 RBI and 1,112 hits. He was also a quality defensive catcher, leading the league in opposing runners caught stealing twice.
Armando Benitez
The two-time All-Star closer ranks 26th in baseball history with 289 career saves. In 762 career appearances, Benitez had a 3.13 ERA, 1.22 WHIP and 946 strikeouts in 779 innings. His 10.9 K/9 is pretty impressive and he led the league in saves once.
Mike Timlin
The lanky right-hander lasted 18 years in the majors, sometimes as a closer and sometimes in a setup role. He finished his career with 141 saves and a 3.63 ERA (125 ERA+). Timlin is also the owner of four World Series rings (1992-93 Blue Jays, 2004 Red Sox, 2007 Red Sox).
Sean Casey
"The Mayor" lasted 12 years in the bigs, making three trips to the All-Star Game as a Red. He ended his career hitting .302/.367/.447 (109 OPS+) with 1531 hits, 322 doubles, 130 homers and 735 RBI. He ranks 183rd in MLB history in batting average.
Jacque Jones
In his 10-year career, Jones hit .277/.326/.448 (98 OPS+) with 255 doubles, 165 homers and 82 stolen bases. He played for four different playoff teams.
Eric Gagne
The three-time All-Star was the most dominant closer in baseball for roughly three years for the Dodgers. In 2003, he won the Cy Young award after going 55-for-55 in save chances with a 1.20 ERA, 0.69 WHIP and 137 strikeouts in 82 1/3 innings. On his career, Gagne had 187 saves in 204 chances with a 3.47 ERA (119 ERA+), 1.15 WHIP and 718 strikeouts in 643 2/3 innings. He also set the MLB record by converting 84 straight saves at one point.
J.T. Snow
Snow hit .268/.357/.427 (105 OPS+) with 293 doubles, 189 homers and 1509 hits in parts of 16 big-league seasons. He won six Gold Gloves and was a very steady postseason performer -- hitting .327/.383/.480 in 28 career playoff games. Still, perhaps his best postseason play of all-time was rescuing little Darren Baker at home plate -- we even did a Bobblehead Project entry to commemorate it.
Todd Jones
He ranks 16th in MLB history with 319 saves. In his 16-year career he compiled a 3.97 ERA (111 ERA+), 1.41 WHIP and 868 strikeouts in 1072 innings. 
He's not a Hall of Famer. Just ask him, like Jayson Stark of ESPN.com did: "The Hall of Fame is for greatness," Jones said (via Deadspin). "No one with the nickname 'Roller Coaster' should ever be considered. The only thing the Hall of Fame will let me in for is to use the restroom."
A similar sentiment could be said for every man on this list, even with all the admirable careers we've noted above.
---
Coming Tuesday: The cases for/against Luis Gonzalez