Brewers thinking about a possible return for Corey Hart
Milwaukee's one big positional hole is first base, and one way to fill it would be with their old friend Hart.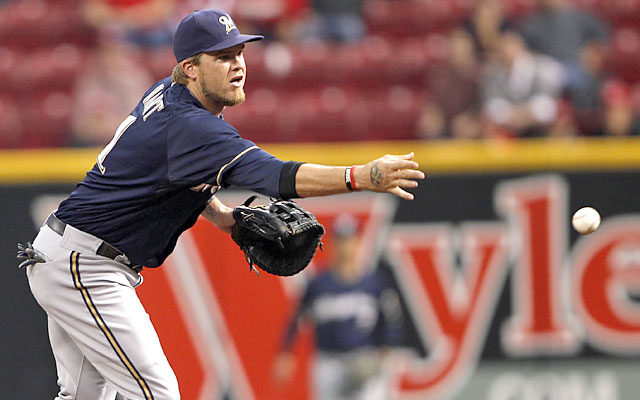 ORLANDO -- The Brewers are considering bringing back Corey Hart to fill their first-base need.
It appears Milwaukee may favor a return of Hart over some other first-base options, such as Ike Davis and Justin Morneau, though there are concerns about Davis' double knee surgery.
Milwaukee has viewed a tape of Hart doing a light drill and he appears to be doing well in it. Word is, he should be ready for the 2014 season after missing 2013 with knee trouble.
Hart, a career Brewer, has said publicly he'd play in Milwaukee for a discounted rate. He hit 30 home runs and batted .270 in 2012.
A Brewers person didn't look overly enthused when asked abut Davis, who's available via trade, or Morneau, a free agent. He added that the rumored trade of Norichika Aoki for Davis would not be happening.
Show Comments
Hide Comments
Our Latest Stories
First spring at-bat? No problem. Arrieta goes downtown to the tune of 465

The Yankees seem to be shooting down offers for veteran shortstops across the league

Fans in Puerto Rico are very proud of their players for their WBC effort
The bat-flipper extraordinaire wants MLB players to know latin players mean no disrespect

USA claimed their first WBC title on Wednesday. How would this roster perform during an MLB...

Raisel Iglesias hurt his elbow and hips taking a misstep in the shower