Bryce Harper's plans : 'Let the body heal ... and get as big as a house'
Nationals phenom Bryce Harper has some very specific training goals this offseason.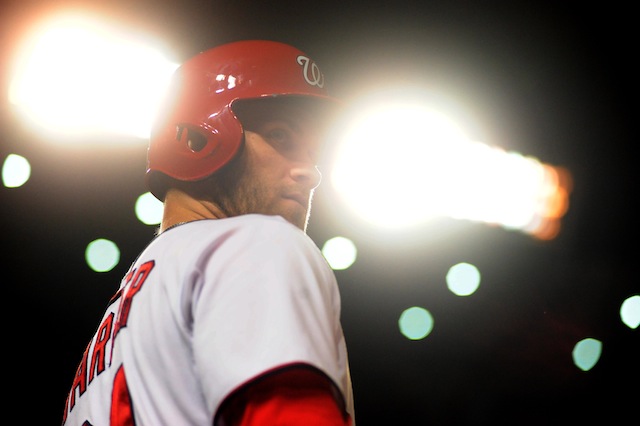 Over at ESPN's Sweet Spot, Anna McDonald has an engaging look at the offseason workout regimens of some notable MLB players. Among those is Bryce Harper, the Nationals' 21-year-old franchise outfielder who owns a career slash line of .272/.353/.481 across his first two major-league seasons. 
Harper, as McDonald writes, is angling to add to his 230-pound playing weight. In part, it's surely to add power, but it's probably also to help him better withstand the rigors of a six-month regular season. Here's the money quote:
"I'm excited to take a month off, that's something I'm excited for, let the body rest. Let the body heal a little bit and get as big as a house. ... That's the biggest thing I try to do.

...

"I want to go into spring training about 240, 245. "
Presumably, this would entail a low-rep, high-load weight-training program and consumption of a lot of calories and protein. More power is a very good thing, but you also don't want a player like Harper to get too far beyond his "natural" weight so that does he doesn't sacrifice some quickness and perhaps overload his joints and tendons.
As with all things, though, there's a balance. Strength training is a very good thing for ballplayers -- old-school resistance to it notwithstanding -- but an overly bulky Bryce Harper probably isn't optimal. Of course, maybe some added cushion isn't a bad thing for a player of Harper's occasionally self-punishing baseball instincts ... 
(Wink of CBS eye: Big League Stew)
Show Comments
Hide Comments