Bud Selig says replay system is 'remarkable' with 'little controversy'
Despite some recent hiccups, commissioner Bud Selig called the new instant replay system "remarkable."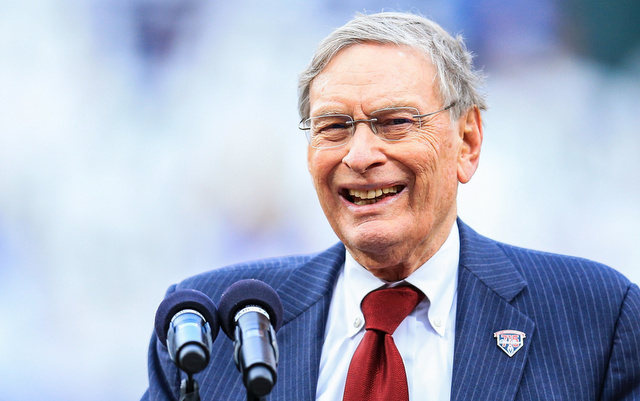 More MLB: Power Rankings | Expert Picks | Latest news & notes | Fantasy news
Over the weekend, MLB admitted to botching a replay during a Yankees-Red Sox game. The next day, after another controversial replay, Red Sox a manager John Farrell was ejected and said it is "hard to have much faith in the system right now." He was fined for his comments.
Despite all that, commissioner Bud Selig called the new replay system "remarkable" and with "very little controversy overall" while speaking to the Associated Press on Tuesday. Here is his full comment:
"We've had really very little controversy overall," Selig said Tuesday at the MLB Diversity Business Summit. "Everything in life will have a little glitch here and there where you do something new. And are our guys on top of it? You bet. But I'm saying to you again, you'll hear about the one or two controversies, but look at all the calls that have been overturned."
Selig declined to say whether MLB would make any adjustments to the replay system in its first season. I'm sure tweaks will be made during the offseason, at the very least.
The new replay system is a work in progress, no doubt about it. Personally, I think the system should be left alone for the entirety of the season. Two weeks is not nearly enough to time to determine whether the system needs fixing. There will be growing pains, sure, but more calls are correct and that's most important.
According to Baseball Savant, there have been 89 replays so far this season, 29 of which resulted in the call being overturned. That number is surprisingly low considering teams have access to video review before the challenge is issued. You'd think more calls would be overturned in that case.
Show Comments
Hide Comments
Davis is still excellent, but there are some definite red flags this year

Here is the player on each team that should not be involved in any trade discussions

Gordon is set to rejoin the Marlins on Thursday night
Mike Scioscia believes Raul Mondesi Jr. was running inside the first base line, causing a throwing...

Here is our breakdown of Thursday's trade deadline buzz

Jeurys Familia had the third-longest streak ever, but his feat was nothing compared to Eric...