Businesses back out of deals following Marlins' dismantling
A trio of businesses have backed out of deals with the city of Miami following the dismantling of the Marlins this winter.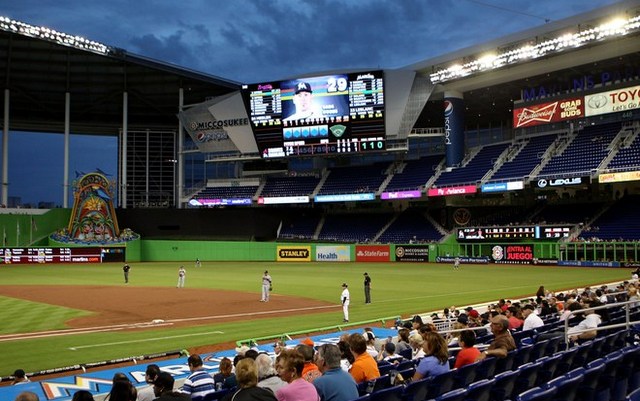 More MLB: Scoreboard | Standings | Probable Pitchers | Sortable Stats | Odds
The Marlins are already closing off portions of the upper deck at 14-month-old Marlins Park due to poor attendance, and now local businesses are backing out of deals in the surrounding areas. Charles Rabin of the Miami Herald reports three restaurants opted out of their deals to open in the nearby parking garages following the team's recent dismantling.
"While [our clients] want to do the deal with the Marlins, their investors are worried about the negative impact that the new Marlins team will have on overall traffic, attendance," wrote Arthur Stevens, who was hired by the city to lure clients to the parking garage space, to the city's public facilities director Henry Torre over the winter.
"Obviously, the Marlins didn't help in regards to their offseason moves," said Miami Parking Authority Chief Executive Art Noriega, whose agency manages the garages. "Then everything went ice cold."
The two national chains -- Firefly and Tilted Kilt -- and a pizza shop called Marco's Pizza backed out of their deals over the winter. Broker Nathan A. Werner called the team's moves the "final nail in the coffin" regarding the decisions to walk away from the letters of intent.
There is the 8,500 square feet of retail space available in three of the four garages fronting the ballpark, but there is not a single business operating in the space. Leases are owned by Subway, Cafe Rubio and 100 Fire Cigars, but no stores have been opened yet. 100 Fire Cigars started paying rent in April, the other two businesses will start paying this summer.
"Listen, I'm a businessman. I understand that side of it ... But I see this area as an entertainment district. Anyone who opens here and expects their revenues just from the ballpark is in for a big shock,'' said Frank Martinez, owner of 100 Fire Cigars, while noting the customer base has to expand beyond baseball fans.
The Clevelander bar inside Marlins Park has always done well, but it rents its space from the team, not the city. Other than that, the expected economic shot in the arm for the community has yet to materialize, and the club's decision to tear things down is a big reason why.
Show Comments
Hide Comments
Carlos Beltran is still a Yankee -- at least, for now

The Twins send Eduardo Nunez to San Francisco in exchange for a pitching prospect

Let's just say the White Sox-Cubs rivalry may or may not be getting to these two former te...
Does it make sense for the Mets to deal for the Brewers' catcher before the Aug. 1 deadlin...

Our 3,000-hit watch with Ichiro is nearing its end

The Royals could have quite the conundrum on their hands after next season