Can Josh Beckett, fresh off no-hitter, keep it going in 2014?
Dodgers right-hander Josh Beckett has thrown the first no-hitter of the 2014 season. He's also enjoying an outstanding season. Is it sustainable?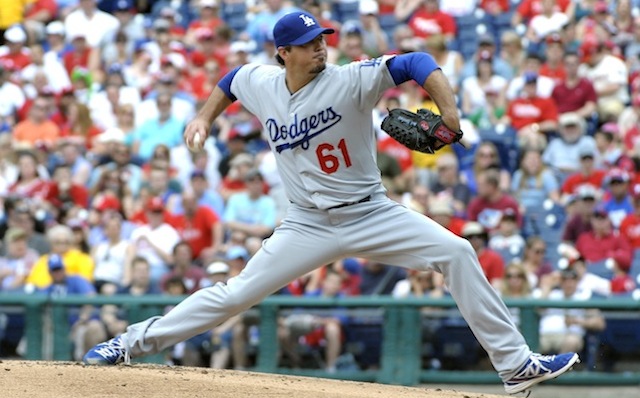 More MLB: Power Rankings | Expert Picks | Latest news & notes | Fantasy news
Dodgers' right-hander Josh Beckett on Sunday threw the first no-hitter of the 2014 season. On Sunday in Philadelphia, Beckett held the Phillies hitless over nine innings en route to a 6-0 victory (boxscore). Beckett struck out six and walked three, and of his career-high 128 pitches on the day, 80 went for strikes. Beckett had retired 23 batters in a row before walking Jimmy Rollins with two outs in the ninth. In pulling it off, Beckett became the first Dodger to pitch a no-hitter since Hideo Nomo on Sept. 17, 1996. 
Also notable is that Beckett's efforts lowered his 2014 ERA to 2.43 after nine starts. That's quite impressive for a 34-year-old who was limited to a total of 43 1/3 innings last season because of shoulder problems -- problems that eventually required major surgery. 
While Sunday's brilliance in Philly was unexpected, this is more about Beckett's surprise renaissance over the first two months of the 2014 season. He's positioned himself as a core member of the Dodger rotation, and he's perhaps the early frontrunner for NL Comeback Player of the Year honors. Given all that, the obvious question is this: Can Beckett keep it up?
In terms of repertoire, thus far in 2014 Beckett is relying on his overhand curve more than ever, and to "make room" for it he's backed off his sinker somewhat. A 12-6 breaking ball like the one Beckett throws is useful in platoon advantaged situations, and that may be part of the reason Beckett has shown better command against left-handers this season. His fastball velocity, meanwhile, is about what it's been over the last two seasons. 
More broadly, though, sustainability is not to be assumed, particularly since we're not even to June yet. In Beckett's case, though, there are further reasons for soft skepticism. Beckett's peripherals to date have been average-ish and thus out of step with his sparkling ERA. What's allowed him to succeed is a .248 batting average on balls in play (versus a career BABIP of .290) and a stranded-runner rate of 84.4 percent. Those two numbers will almost certainly undergo a correction in the weeks to come. 
More specifically, Beckett coming into Sunday's no-no was allowing an OPS of .810 with the bases empty and an OPS of .510 with runners in scoring position. That's what's helped bring about his LOB% of 84.4. Most LOB%s settle in at around 72 percent (roughly Beckett's career mark, it so happens), and any time you see wide deviations from that mark, luck is typically to be credited/blamed. So it almost certainly is with Beckett. 
As such, the smart money says Beckett's ERA will rise over the remainder of 2014. That said, he was a bit unlucky in 2012 and 2013, so there's a sensible middle insofar as recent history is concerned. If Beckett's able to stay healthy (not to be assumed, obviously) and maintain velocity in the near-term, then there's no reason he can't pitch to an ERA in the mid- to high-3.00s moving forward. In other words, he can be useful. What he likely can't continue being, given a large enough sample, is the ace he's been in 2014 and especially on Sunday. 
Show Comments
Hide Comments