Cano takes high road when asked about Mariano Rivera's comments
Mariners second baseman Robinson Cano took the high road when asked about Mariano Rivera's upcoming book.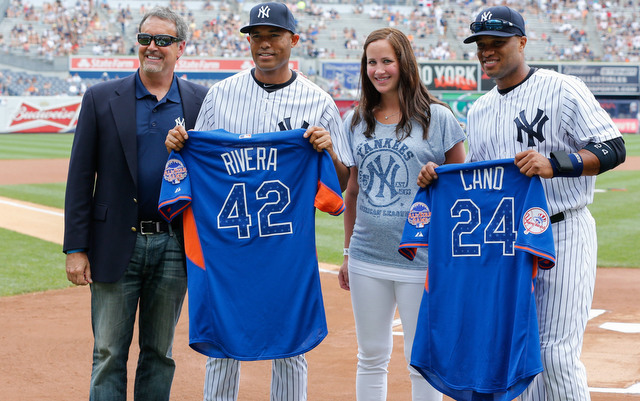 More MLB: Power Rankings | Expert Picks | Latest news & notes | Fantasy news
On Tuesday, we heard Mariano Rivera had some not so nice things to say about Robinson Cano in his upcoming book The Closer: My Story. He didn't trash his former teammate, but the comments were not exactly flattering either. Here's the quote:
In his new autobiography, "The Closer," Rivera writes about how much affection he has for his former teammate, but adds, "This guy has so much talent I don't know where to start... There is no doubt that he is a Hall-of-Fame caliber (player). It's just a question of whether he finds the drive you need to get there. I don't think Robby burns to be the best... You don't see that red-hot passion in him that you see in most elite players."

As for his favorite second baseman, Rivera says Red Sox Dustin Pedroia is "at the top of the list" of players he admires, adding: "Nobody plays harder, gives more, wants to win more. He comes at you hard for twenty-seven outs. It's a special thing to see."

He later writes, "If I have to win one game, I'd have a hard time taking anybody over Dustin Pedroia as my second baseman."
Rivera spent parts of 19 seasons in New York and managed to avoid controversy, amazingly. Nine months into his retirement, he questioned Cano's work ethic and said he would rather have a player on a rival team. I'm sure it stung a little.
Before Tuesday night's game with his new team, Cano took the high road when asked about Rivera's comments. From Bob Dutton of the News Tribune:
"I'm not going to comment too far on this," Cano said. "If that's how Mariano feels, I respect that. I'm always going to have respect for him. I spent nine years with him.

"For me, he's always going to be the best closer. That's how I feel."

Cano declined to comment when asked whether he was surprised and/or stung by Rivera's comments.

"Everybody has a different opinion," he said. "You've got to respect everyone. If that's his opinion, I have to respect his opinion. I don't have any other comment. I'm not going to go too far with this.
Those of you hoping for a war of words will surely be disappointed. Cano handled the situation very well and with class, something that is usually true of Rivera. This went from story to non-story when it could have gotten out of hand.
Show Comments
Hide Comments