Cardinals ace Adam Wainwright dealing with a 'dead arm'
Cardinals right-hander Adam Wainwright has been struggling for a few starts now, and on Wednesday he acknowledged he is dealing with a dead arm.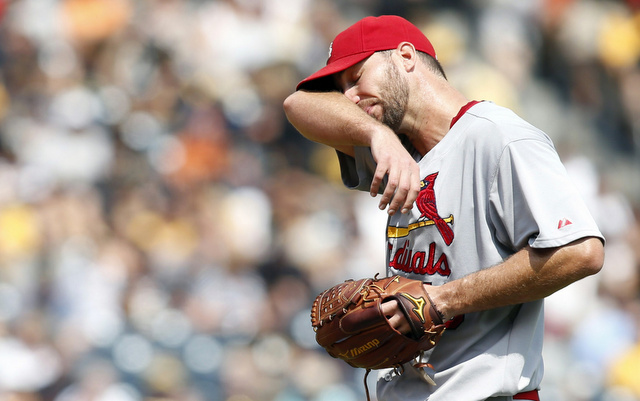 The Pirates beat the Cardinals on Wednesday afternoon (PIT 3, STL 1), and in doing so they touched up St. Louis ace Adam Wainwright for three runs on eight hits and walk in six innings. They didn't knock him around but it wasn't the tall right-hander's best game either.
Wainwright now has a 4.68 ERA in his last eight starts after pitching to a 1.83 ERA in his first 19 starts of 2014. He's in a bit of a rough patch, and, after Wednesday's game, he acknowledged he is dealing with a proverbial "dead arm:"
Wainwright says he's been battling a dead arm, which he is reluctant to acknowledge. Usually means he feels it's about over. #Cardinals

— Derrick Goold (@dgoold) August 27, 2014
Dead arm is usually code for fatigue and not an actual injury. It's fairly common among veteran pitchers, especially towards the end of spring training and right about now, in late August.
Wainwright, 32, has thrown 188 innings this year after throwing 276 1/3 innings last year between the regular season and postseason. It's no surprise he ran into a bit of a wall. The timing is unfortunate though -- Wednesday's loss dropped the Cardinals to two games back in the NL Central and shrunk their wild-card lead to two games.
In 26 starts this year, Wainwright is 15-9 with a 2.59 ERA and a 1.06 WHIP in those 188 innings. He remains very much in contention for the NL Cy Young award at this point.
Show Comments
Hide Comments