Cardinals call up Grichuk, demote Wong in hopes of sparking offense
In an effort to improve their powerless lineup, the Cardinals swapped Kolten Wong for Randal Grichuk among a series of roster moves.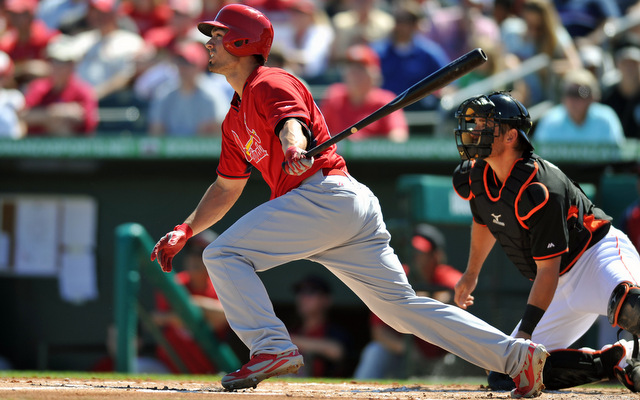 More MLB: Power Rankings | Expert Picks | Latest news & notes | Fantasy news
Through their first 25 games of the season, the Cardinals have averaged only 3.28 runs per game, the third lowest rate in all of baseball. Only the Padres (2.60 R/G) and Astros (3.20 R/G) have been worse. St. Louis was third in baseball last season with a 4.83 runs per game rate, for comparison.
In an effort to spark their offense, the Cardinals called up outfielder Randal Grichuk and infielder Greg Garcia from Triple-A Memphis, the team announced. Outfielder Shane Robinson and rookie second baseman Kolten Wong were sent down in corresponding moves.
"We can give (Wong and Robinson) some at-bats. They weren't getting a lot of playing time here in the last couple of weeks and, especially for Wong, that trend probably would continue," said GM John Mozeliak to Rick Hummel of the St. Louis Post-Dispatch. "This will give him a chance to play every day and if he gets back on track, that would be helpful."
Wong, 23, essentially replaced David Freese in the everyday lineup, with Matt Carpenter shifting from second to third. He has hit .225/.276/.268 (54 OPS+) with three steals in 20 games this year and has been losing playing time to veteran Mark Ellis recently. Wong hit .153/.194/.169 (2 OPS+) in 32-game cameo last year.
The 29-year-old Robinson has been up-and-down in recent years and had gone 2-for-20 in 16 games as the team's fifth outfielder this year. He came into 2014 as a .246/.316/.326 (78 OPS+) hitter with five homers and seven steals in 221 MLB games from 2009-13, all with the Cardinals.
"Looking at the other side of it, both Garcia and Grichuk are swinging the bat well," added Mozeliak. "Garcia can play second base and shortstop and, not only has he had good at-bats lately, he had good at-bats the last six to eight weeks of last season ... Grichuk gives us somebody who can play center field and also the corners and can provide power off the bench, if need be."
Grichuk, 22, came over from the Angels in the Freese/Peter Bourjos trade. He was hitting .313/.356/.542 with three homers in 20 Triple-A game this year. Grichuk hit 22 home runs in 2013 and 18 home runs in 2012, so he definitely offers some power. This will be his MLB debut.
Garcia, 24, was Wong's teammate in college. He was hitting .277/.362/.554 with five homers in 20 Triple-A games before getting the call, though he was repeating the level. Garcia is a .281/.385/.411 career hitter in the minors and, like Grichuk, he will be making his big league debut.
The Cardinals have struggled to score runs this year for two main reasons. One, they simply aren't hitting the ball out of the park. They are second to last in baseball with 12 homers (Royals have nine), which works out to 78 over a full season. Last year they hit 125 and that was the fourth lowest total in baseball. Yadier Molina (three) and Jhonny Peralta (four) are the only players on the roster with more than one dinger.
Two, their insane success with runners in scoring position has not carried over to 2014. St. Louis hit a historic .330/.402/.463 (139 OPS+) in 1,621 plate appearances with RISP last year and that was just bonkers. The old record for batting average with RISP was .311 by the 2007 Tigers. This year, the Cardinals are only hitting .223/.296/.293 (69 OPS+) in those situations, among the worst in the league.
The Cardinals brought back mostly same lineup this year -- the notable exceptions are Freese (wasn't good in 2013) and Carlos Beltran (awesome as usual) -- and I think it's only a matter of time before they start putting more runs on the board. Will they hit .330 with runners in scoring position again? No chance. But they'll improve in those spots and eventually the ball will start carrying out of the park a bit more. Grichuk and Garcia should give the offense a nice shot in the arm but I wouldn't expect them to be saviors.
Show Comments
Hide Comments