Cardinals get just enough offense in Game 4 to stay alive in NLDS
The Cardinals were able to force a Game 5 with Monday's win, but they're going to need their offense to do more if they want to advance to the NLCS.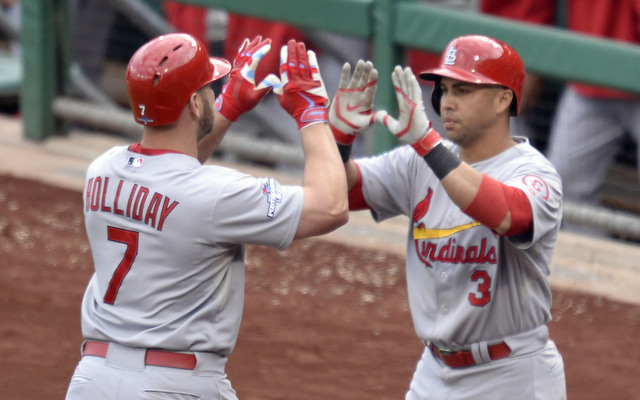 More NLDS: Game 4 box score | Game 4 quick hits | Who has the edge?
Only two teams -- the DH-employing Red Sox and Tigers -- scored more runs than the Cardinals this season. St. Louis led the National League with 783 runs and it wasn't particularly close either -- the Rockies were second with 706 Coors Field-inflated runs. The Cardinals were, by far, the most effective lineup in the league.
Following their 2-1 win over the Pirates in Game 4 on Monday afternoon, the Cardinals have scored 15 total runs in the NLDS. That's an average of 3.75 runs per game, a full run below their 4.83 regular season average. This is the postseason though, teams only use their best pitchers, so you'd expect run scoring to drop. This isn't completely out of the ordinary.
That said, the Cardinals have had some funky run distribution in the NLDS. Fifteen runs in four games sounds great until you realize that seven of the 15 -- half, basically -- were scored in one inning, the third inning of Game 1. That's when A.J. Burnett (and the Pittsburgh defense) melted down. Since then, St. Louis has scored eight runs in 32 offensive innings.
Two of those eight runs came on Matt Holliday's two-run homer in the sixth inning of Game 4, the only runs the Cardinals pushed across in the game. Those two runs were just enough because rookie right-hander Michael Wacha flirted with a no-hitter, so they did the job. One run in Game 2 (Yadier Molina solo homer) and three runs in Game 3 (Carlos Beltran two-run single and solo homer) were not enough to win, however.
The biggest offensive culprit has been leadoff man Matt Carpenter, who hit .318/.392/.481 (143 OPS+) while leading baseball in runs (126), hits (199) and doubles (55) during the regular season. He's gone 1-for-15 (.067) with one walk and six strikeouts in the four NLDS games. Tough to score when your table-setter does that. Jon Jay and former World Series MVP David Freese are a combined 4-for-26 (.154) in the series, so that's four unproductive lineup spots when you add in the pitcher.
Fortunately, the Cardinals are a really good team, and what happened in the first four games of the series doesn't mean much of anything for Game 5. Carpenter hasn't hit, but that doesn't mean he can't hit. He obviously can. Give him enough chances and he'll make noise. St. Louis didn't get score enough in Games 2 or 3 and they got barely enough offense in Game 4 to force a Game 5. If they want to advance to the NLCS for the eighth time (!) since 2000, they'll need the bats to pick up the pace. Either that, or they'll need Adam Wainwright to do what Wacha just did.
Show Comments
Hide Comments