Cardinals-Pirates NLDS Game 5 starting lineups
The Cardinals and Pirates will settle their NLDS matchup on Wednesday night. Here is each team's starting lineup.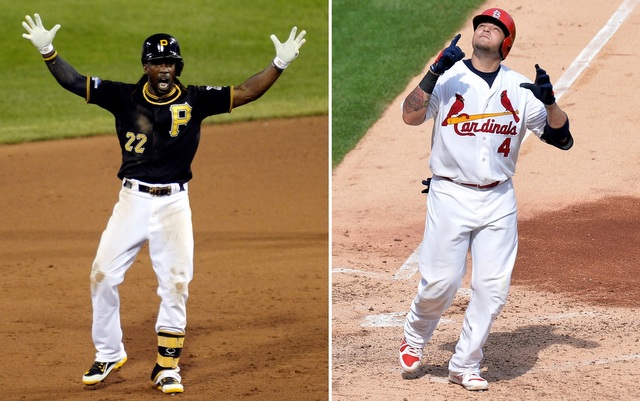 More NLDS: Game 5 pitching preview | Who has the edge?
One team is going to the NLDS to play the Dodgers and the other is going home. Game 5 of the NLDS is scheduled to begin at 8:07pm ET (7:07pm local time) tonight and will be played at Busch Stadium in St. Louis. You can watch on TBS. Here are the starting lineups.
First, the visiting Pittsburgh Pirates :
Starling Marte

, LF

Neil Walker

, 2B

Andrew McCutchen

, CF

Justin Morneau

, 1B

Marlon Byrd

, RF

Pedro Alvarez

, 3B

Russell Martin

, C

Clint Barmes

, SS

Gerrit Cole

, RHP
Now, the home St. Louis Cardinals :
Matt Carpenter

, 2B

Carlos Beltran

, RF

Matt Holliday

, LF

Matt Adams

, 1B

Yadier Molina

, C

Jon Jay

, CF

David Freese

, 3B

Pete Kozma

, SS

Adam Wainwright

, RHP
Show Comments
Hide Comments
Our Latest Stories
Matt picks his MLB overs and unders and looks back at how he and some of our readers did in...

How can the Arizona Diamondbacks bounce back from a terrible 2016?

Hosmer is one of many Royals nearing free agency
Niese isn't that far removed from being useful

Your feel-good moment of the college baseball weekend

The Union head weighed in on the ongoing drama between the Yankees and one of their star r...