Cardinals, Rangers could be match in trade talks
The Cardinals have excess young pitching and need a shortstop. The Rangers are reportedly thinking about dealing a middle infielder. That's a match, on paper.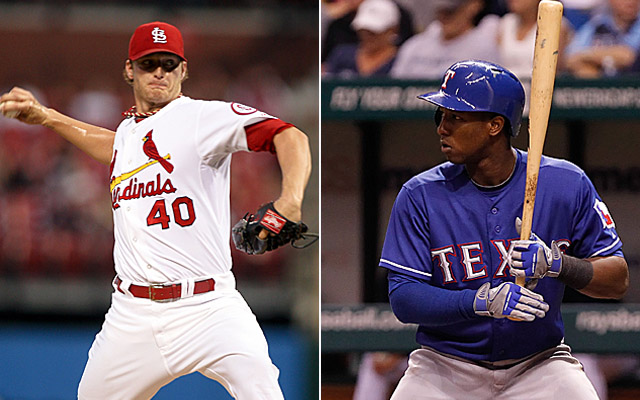 We're nearing the actual hot stove season, so it's rampant rumor time. With that in mind, please note that this isn't a report of actual interest but instead speculation that two clubs make a natural fit in possible trade talk.
The Cardinals sending a young starting pitcher to the Rangers for a shortstop makes an awful lot of sense, too.
A few days ago, a report from St. Louis pointed out that the Cardinals have tons of starting pitching depth and that it's "increasingly likely" either Lance Lynn or Shelby Miller is shopped in hopes of landing a shortstop.
And wouldn't you know it, Ken Rosenthal of Fox Sports reported Wednesday that the Rangers are "pondering whether" to trade a middle infielder. Initially on the table are second baseman Ian Kinsler and shortstop Elvis Andrus -- as the Rangers want to clear a spot for highly-touted Jurickson Profar.
So if I'm Cardinals general manager John Mozeliak, I'm placing a call to Rangers GM Jon Daniels.
The Cardinals are likely to move Matt Carpenter to third base and go with Kolten Wong at second base moving forward -- and Mozliak has made it clear that Wong won't move to short. So Kinsler is a stretch here. He has good range at second, was initially a professional shortstop before moving to second in Triple-A and the Cardinals don't mind plugging guys a bit out of position (See: Carpenter, Matt). Still, moving from second to short after this many years isn't ideal in the least, especially for a 31 year old.
Andrus is a tough sell, too, because he hasn't even started his eight-year, $118 million contract. It kicks in starting in 2015. He's only 25, but that's a lot to expect the Cardinals to take on.
What about Profar, though?
Though he was disappointing in 2013, he's only 20. His upside is off the charts. The Rangers wouldn't part with him for Justin Upton last winter and still hold him in high regard, but the Cardinals have one of the best farm systems in baseball. Plus, Miller is coming off an excellent rookie season, is only 23 and should only get better. He'll be a frontline starter for a while.
Due to the nature of pitching -- and how easily pitchers break down -- most would much rather have the young position player than pitcher, which is why Mozeliak would need to grease the wheel with an additional prospect or two.
On the whole, it definitely seems worthwhile for Mozeliak to dangle Miller and prospect(s) for Profar. It's worth it for Daniels to listen. After he did, maybe the Cardinals would consider Andrus (with some creative salary numbers changing hands) or Kinsler. Who knows? It's worth a conversation.
This may not get done or even progress past my own speculation, but the two clubs definitely seem a natural fit. For me, a deal centering around Profar and Miller makes a lot of sense.
Show Comments
Hide Comments