Cardinals' Tuesday highlight: Watching Chris Carpenter hit
Chris Carpenter hasn't been able to pitch for the Cardinals this year, but he did live out a dream by taking batting practice Tuesday at Fenway Park. He even hit five home runs.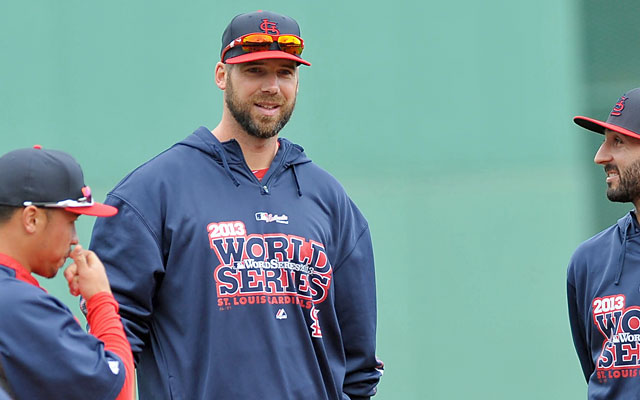 BOSTON -- The Cardinals were taking batting practice Tuesday, and one after another, balls were flying over the Green Monster.
Chris Carpenter wasn't getting ready for the World Series. He was simply living out a dream.
Carpenter hasn't pitched all year, and is likely headed for retirement after the season. But he has spent the entire postseason in uniform with the Cardinals, acting as part-cheerleader and part-confidant.
And when the Cardinals made it to the World Series against the Red Sox, Carpenter had a simple request.
He wanted to take batting practice at Fenway Park.
There was no chance the Cardinals would say no. Not to Chris Carpenter, not with what he has meant to this franchise and not with what he has meant to this team, without even throwing a pitch.
So during the Cardinals workout Tuesday, Carpenter swung and the Cardinals watched. When he hit five home runs over the famous wall in left, Carpenter wasn't the only one smiling.
"Oh man, Carp is a character," assistant hitting coach Bengie Molina said.
Carpenter's injuries won't allow him to pitch, but surely he can hit.
"He's pretty close," Molina said with a smile. "We've got a thin bench."
Carpenter grew up in New Hampshire. He came to Fenway as a fan, and he pitched at Fenway for the Blue Jays early in his career. He said he had taken batting practice here just once before, with the Blue Jays while getting ready for upcoming interleague games.
"But it was only a couple of bunts, a couple of swings," he said.
This time, it was a full round. It was also the most activity Carpenter will be able to have on the field in this World Series.
Wednesday, he'll go back to watching, as his close friend Adam Wainwright starts Game 1. Carpenter has rarely looked happier than he was after Wainwright won Game 5 against the Pirates -- unless it was after Michael Wacha won Game 4 two days earlier.
"For him, to be injured and still be around says a lot," Cardinals general manager John Mozeliak said. "He loves the culture of this club, and frankly, he adds to it."
Carpenter doesn't want to spend too much time discussing the future, but the experience this month seems to make it even more likely he will continue working for the Cardinals in some capacity.
"I'm just enjoying this right now," he said.
He really did enjoy Tuesday. He enjoyed picking up a bat, and he enjoyed hitting a few balls over the Green Monster.
"It's his own personal fantasy camp," one Cardinals person said.
It was. And no one with the Cardinals was complaining.
They were all too busy smiling.
Show Comments
Hide Comments