Cards' trio of rookie relievers gets it done vs. Dodgers in NLCS Game 4
Game 4 had many storylines, and the Cardinals' young bullpen is among them.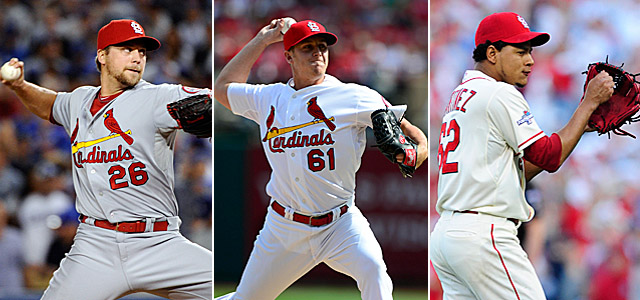 MORE: Game 4 quick hits | Game 4 grades
LOS ANGELES -- In the course of the Cardinals' 4-2 over the Dodgers in Game 4 of the NLCS, three St. Louis relievers combined for the following line: 3 2/3 IP, 2 H, 0 R, 1 K, 0 BB. Those are quality outs, obviously, but what's also striking is that those three relievers -- Seth Maness, Carlos Martinez and Trevor Rosenthal -- are all rookies. At 25, Maness is the oldest of the group. 
First, Maness came on in the sixth in relief of starter Lance Lynn with a runner on first and one out. He threw three sinkers to Juan Uribe and induced an inning-ending double play. That, after all, is what Maness does.
During the regular season, he posted a jaw-dropping groundball-fly ball ratio of 5.50 (132 grounders versus just 24 fly-pieces in 62 innings of work), and he induced 16 doubles plays while stranding 84.5 percent of base-runners. If you were to design an ideal reliever for high-leverage, men-on-base spots in the middle innings, then you'd probably concoct something like Seth Maness. 
Then it was Carlos Martinez. Martinez, a high-ceiling starter in the minors (he entered 2013 as the no. 33 prospect in all of baseball according to MLB.com), filled a relief role for the Cardinals this season, save for one start on Aug. 8. While the overall numbers don't seem impressive at first blush, Martinez was dominant after being recalled in late August, except for one Coors Field outing in early September.
On Tuesday night, Martinez worked two pressurized innings against the Dodgers, and he proved the perfect complement to Maness's worm-burning ways. Of his 18 pitches to the Dodgers, nine were fastballs that averaged 99 mph. When mixed in with a hard curve and sinker of his own, Martinez's heaters are even more devastating. 
Of course, Martinez's most memorable throw of the night may have been when he twirled and picked off Nick Punto on second base in the seventh. After Game 4, Martinez talked about feeling "relaxed" throughout the night and despite the circumstances, and that was certainly on display when he out-maneuvered the veteran Punto. 
As for the closer Rosenthal, it's enough that he even carries that designation -- "closer" -- at age 23 for a playoff team. During the regular season, Rosenthal struck out 34.6 percent of the batters he faced (versus a league average of 19.9 percent) and pitched to a 2.63 ERA. He also had little time to adapt to his new role, as Edward Mujica, Rosenthal's faltering predecessor, didn't lose his job until late in the regular season. 
When you take over as closer just prior to a deep playoff run, then it's no exaggeration to say that the innings get more important as the games tick by. Still and yet, Rosenthal has thrived in the glare. Of his standing as a leading rookie in a bullpen of rookies -- let's not forget to count lefty Kevin Siegrist among them -- Rosenthal after Game 4 talked about a positive kind of, well, peer pressure. "You just want to fit in," he said of his fellow rookie relievers. "You don't want to be the guy who goes out there and doesn't do as well as everybody else. It's good motivation, and it's good confidence."
As for the confidence part, Rosenthal in Game 4 pumped 11 pitches at the plate. One of them was a changeup. The remaining 10 were fastballs that averaged 99 mph. Those would be the most impressive offerings of all on most nights, but this is the bullpen of the 2013 Cardinals. A rookie who throws like that is just another rookie on this team that's one win from the World Series.