Carlos Beltran's Hall of Fame case helped by insane postseason stats
Carlos Beltran has a reasonable Hall of Fame case without the postseason. His postseason numbers mean he should definitely get in.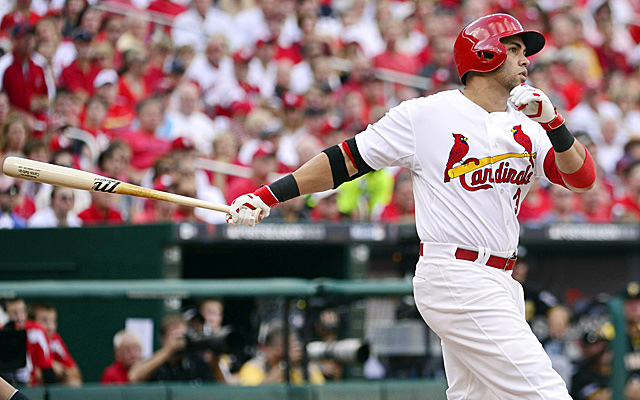 Quick hits: Adam Wainwright the hero, A.J. Burnett the goat
Carlos Beltran should be headed to the Hall of Fame.
[Cue mass hysteria! Seriously, please hear me out.]
In the Cardinals Game 1 rout in the NLDS over the Pirates, he showed part of the reason why. Because his postseason numbers are the tiebreaker on a borderline regular-season career.
After going 1-for-5 with three RBI Thursday -- which includes him crushing a three-run, upper deck homer to get the scoring started in the third inning -- Beltran is now hitting .357/.455/.783 in playoff games.
He has the highest career postseason slugging percentage and OPS (1.238) in baseball history. According to Elias Sports Bureau, Beltran is tied for the highest home run rate in postseason play with Babe Ruth (both Beltran and Babe have 15 homers in 129 at-bats -- so one home run for every 8.6 at-bats). Ever heard of him?
In terms of postseason play, an argument could be made Beltran is the best postseason hitter of all-time.
On the Hall of Fame, though, I'm not suggesting Beltran is a Hall of Famer based only upon his 35 postseason games. That would be ridiculous and anyone who thinks I'm doing that isn't paying attention or particularly smart. As I said earlier, Beltran is a borderline Hall of Famer in regular-season play, so the insane postseason numbers push him over the edge, for me.
And now onto why he's a borderline regular-season Hall of Famer.
We're talking about a guy with over 350 homers and 300 stolen bases. Here are the only players in baseball history to have done that: Barry Bonds, Willie Mays, Alex Rodriguez, Andre Dawson and Beltran.
The eight-time All-Star Beltran carries a career triple-slash line of .283/.359/.496, good enough for a 122 OPS+ (22 percent better than the league average throughout his entire career). His 67.5 WAR (baseball-reference.com version) puts him 83rd among position players in history. That might not sound impressive, but we need to think about just how many thousands upon thousands of position players have even taken the field. He also has 446 doubles, getting him close to the top 100 ever (104th right now).
Also, take note of the players who accumulated less WAR over their respective careers: Roberto Alomar, Duke Snider, Pee Wee Reese, Craig Biggio, Andre Dawson, Willie McCovey, Dave Winfield, Billy Williams, Richie Ashburn, Billy Hamilton (the guy who played from 1888-1901, not the Reds rookie speedster), Lou Boudreau, Home Run Baker, Shoeless Joe Jackson, Mark McGwire, Harmon Killebrew, Yogi Berra and, well, you get the idea. Those players are all either in the Hall of Fame or have statistical Hall of Fame cases but aren't in for different reasons.
Also on baseball-reference.com, they run a statistical similars stat. Of the top 10 similars through age 36 for Beltran, four (Winfield, Dawson, Williams and Jim Rice) are in the Hall of Fame.
Also, using Jay Jaffe's JAWS formula -- an attempt to put one number on a player's Hall of Fame case -- Beltran ranks only behind the following among center fielders**: Mays, Ty Cobb, Tris Speaker, Mickey Mantle, Ken Griffey Jr., Joe DiMaggio and Snider. He ranks ahead of the the following Hall of Famers: Ashburn, Dawson, Hamilton, Larry Doby, Kirby Puckett, Max Carey, Earl Averill, Edd Roush, Earle Combs, Hack Wilson, Hugh Duffy and Ned Hanlon.
**The list includes anyone who ever appeared in center field, not necessarily guys who played most of their games in center.
Some people may think there are too many Hall of Famers, but based upon established Hall of Fame criteria -- that is, players who have already been inducted into the Hall of Fame -- Beltran makes it on regular-season performance alone and his sick postseason numbers should just be gravy. Still, strict, old-school voters might not think his counting stats in runs (1,346), hits (2,228) and RBI (1,327) or his batting average are good enough. They'll also scoff at WAR and JAWS, many in close-minded fashion. And I understand that, which is why I called him a borderline Hall of Famer earlier.
But the unbelievable postseason numbers should eventually be the tilting point, because Carlos Beltran belongs in Cooperstown.
Show Comments
Hide Comments