Cheating Brewers use chainsaw, still lose EOB heavyweight title to Cards
The Cardinals on Tuesday night dropped some fierce justice on the Brewers, and in doing so reclaimed the Eye On Baseball Heavyweight Championship.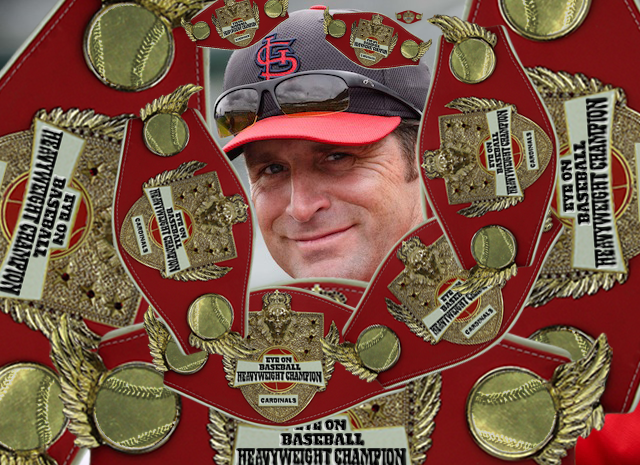 More MLB: Power Rankings | Expert Picks | Latest news & notes | Fantasy news 
It is part of Eye On Baseball Heavyweight Championship lore that meddlesome dungeonmaster Matt Snyder robbed the Cardinals of the both belt and title heading into the 2014 season. Now, though, the powers that guide have seen that the championship is once again back where it belongs. Yes, in taking the first two games of the series against the Brewers, the Cardinals have reclaimed the Eye On Baseball Heavyweight Championship. 
What's that, you ask? That's this ... 
Since the concept of championship belts is cool in boxing, MMA and sports entertainment (aka pro wrestling), the Eye on Baseball team has decided to create a Heavyweight Championship belt for the 2014 season.

As the defending World Series champions, the Giants entered the season with the strap. From there, here are our rules.

1. A team must win a series from the champion to take the belt. One game isn't going to cut it, considering it's a 162-game season and teams all view the season in terms of series.

2. If the belt-holder splits a series (two- or four-game series), it retains. Much like on a draw in boxing or a count-out situation in pro wrestling, you don't get the belt unless you actually beat the champion. A tie isn't good enough.

3. If, at the end of the regular season, the belt-holder does not make the playoffs -- and due to the dynamics of this thing, that scenario is entirely plausible -- said team will be stripped of the title for not qualifying for the postseason. Then the winner of the playoffs -- the World Series -- takes the belt and the title into the offseason.
Most remarkable of all is that the Cardinals won back the strap despite the nefarious tactics of the Brewers, those abominable blackguards. Witness their squelched attempts at cheating via these official game highlights ...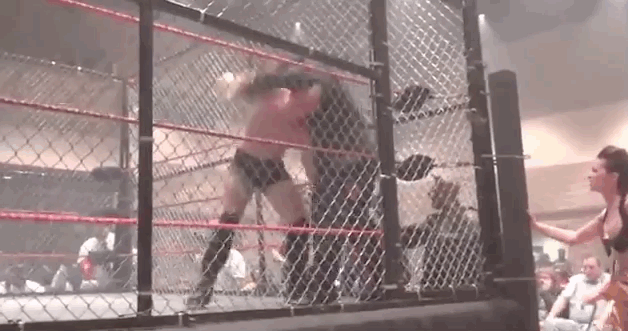 A chainsaw in a wrestling match? I just checked, and you can't do that, stupid, pumpkin-eating Brewers. You see, though, cheaters never win. (Except when they do, of course.)
Now that proper and right-wise order has been restored, let us drop in on our Engraved Plaque of Eye On Baseball Heavyweight Champions ... 
| Eye On Baseball Heavyweight Champion | 2014 title reign |
| --- | --- |
| | March 31 - April 4 |
| | April 5 - April 14 |
| | April 15 - Present |
First title defense for the Cardinals? They'll visit the Nationals for a four-game set starting Thursday. At stake? The Eye On Baseball Heavyweight Championship. 
Show Comments
Hide Comments