Chris Davis reportedly returns to O's on 7-year deal: Five things to know
After much back and forth, Davis is headed back to Baltimore on a seven-year contract.
by

Eye on Baseball staff

• 4 min read
After much back and forth this Hot Stove season, it appears Chris Davis is headed back to the Baltimore Orioles. MLB Network Insider Jon Heyman reported Saturday morning that both sides agreed to a seven-year deal. The Orioles have yet to confirm the deal, which is said to be pending medical review.
Breaking: Chris Davis is heading back to the Orioles. sides are in agreement.

— Jon Heyman (@JonHeyman) January 16, 2016
According to Heyman, the deal will be for $161 million. Ken Rosenthal of FOX Sports reports, according to a source, that Davis will get a full no-trade clause as part of the deal with no opt-out clause. The $23 million average annual value is identical to Jason Heyward's deal with the Cubs. As for the breakdown, this one's heavily deferred ... 
Chris Davis contract structure: $17m annual salary 2016-2022. Annual payments $3.5m 2023-32, then $1.4m 2033-37. No interest on deferrals.

— Buster Olney (@Buster_ESPN) January 16, 2016
Obviously, being able to push a significant chunk of this deal that far into the future without paying interest is a good thing for the Orioles.
It had been reported for several weeks Davis had an offer worth just north of $150 million, and just this week ESPN reported his agent, Scott Boras, had begun to shop him around to teams as an everyday corner outfielder. No legitimate suitors were ever reported to emerge after that. Davis will now return to his role as first baseman and part-time right fielder in Baltimore.
The Orioles, meanwhile, briefly turned their attention to Yoenis Cespedes earlier this week, reportedly offering a five-year contract worth $90 million. They also touched base with Justin Upton earlier this offseason. The team was said to be growing impatient with Davis, so the interest in Cespedes appears to have been designed to apply some pressure.
Davis, 29, hit 47 home runs last season with 117 RBI for the Orioles while hitting .262/.361/.562 with a .923 OPS. He leads in baseball in home runs (126) and strikeouts (580) over the last three years. Davis was the ninth overall free agent on our top-50 rankings this winter.
The Orioles lost Wei-Yin Chen and Gerardo Parra to free agency earlier this offseason, though they were able to retain Davis and Darren O'Day. Baltimore has also acquired Mark Trumbo and Korean outfielder Hyun Soo Kim this winter.
The O's went 81-81 and finished in third place in the AL East in 2015.
Now for some "Things to Know" about this big signing ...
1. This is easily the biggest contract in Orioles history. 
Previously, the record had been the six-year, $85.5 million extension that Adam Jones signed in May of 2012. Davis' pact, of course, roughly doubles that figure.
2. Since arriving in Baltimore, Davis has been one of the best sources of power in all of baseball. 
Since 2012, when Davis first became a full-timer, he's hit 159 home runs. That leads all of baseball over that span. Edwin Encarnacion is second with 151, and then it's Nelson Cruz with 135. Bear in mind that Davis has piled up all those homers despite playing in just 127 games in 2014.
3. To some extent, he's a product of Camden Yards. 
Baltimore's home park is a great environment for home runs, especially left-handed home runs, of which Davis is such a rich source. It's not surprising, then, that Davis has benefitted from playing there. Since 2012, 92 of his 159 home runs have come at home. In Baltimore over that span, he's batted .272/.357/.594, while on the road he's hit .242/.329/.479. He's still a producer away from home (he's fourth in all of baseball in road home runs since 2012), but he's not on the same level once he gets outside Camden.
4. Davis still strikes out a lot, but he made small strides with his plate discipline last season.
Davis will always be a swing-and-miss hitter, as his MLB-leading 208 strikeouts last season will attest. However, he showed signs of offsetting those whiffs with more patience. In 2015, Davis' walks as a percentage of plate appearances crept up to 12.5 percent, which is a career high. As well, of his 84 walks, just six were intentional. Divide his walk percentage by his strikeout percentage, and you get a career-best figure of 0.40. That's not ideal, but it's progress. Davis also maintained the pitches seen/plate appearance gains that he made in 2014. It's going to be important for Davis to show more patience as he ages, so that he can offset the loss of power with improved on-base skills. In 2015, we may have seen some early signs of that happening.
5. The back end of this deal may not look good for the Orioles.
With any big contract such as this, the team expects the final years to be somewhat burdensome. The idea is to reap surplus value from the front end so that the decline years don't hurt so much. Davis, though, is in some ways a "power only" guy, and those kinds of players tend not to age very well. This contract will run through Davis' age-36 season, and the possibility for premature deep decline is very real with a player of this prototype. In that sense, the front half will be telling. If there's a drop-off, then the second half of this contract would be fairly crippling.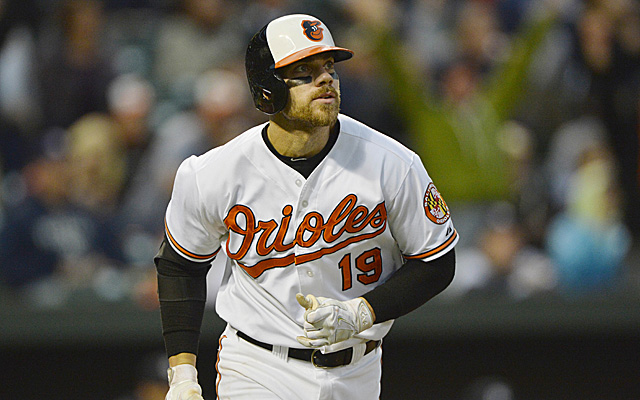 Show Comments
Hide Comments
Our Latest Stories
Don't run on the field, people. Especially when Angel Pagan is in the house

Not that you thought otherwise, but Miggy's finishing up strong as the Tigers eye the post...

Bruce initially struggled after being traded to the Mets. He's not struggling now
Ortiz's two-run blast gave the Red Sox a 5-3 lead that would hold up, dealing the Blue Jays...

Here's a look at the postseason race standings with three days left in the regular season

GM John Mozeliak says the team probably isn't going to exercise their option on Holliday for...