Clayton Kershaw on verge of third straight ERA title at age 25
If there was any doubt Clayton Kershaw is the best pitcher in the world, the southpaw is on the verge of leading MLB in ERA for the third straight season.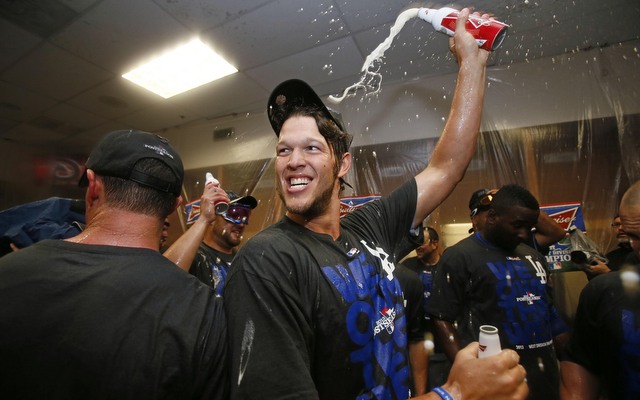 More MLB: Scoreboard | Standings | Probable Pitchers | Sortable Stats | Odds
With six shutout innings in his final regular season start on Friday, Dodgers left-hander Clayton Kershaw lowered his MLB-leading ERA to 1.83. I guess it's still mathematically possible for someone to beat him out for the ERA crown, but, in reality, it'll never happen. This race is over.
With that in mind, let's take a quick second to review the MLB leaders in ERA -- among pitchers with enough innings to qualify to for the title, obviously -- over the last three seasons:
2013 - Clayton Kershaw
2012 - Clayton Kershaw
2011 - Clayton Kershaw
That's right, Kershaw has led baseball in ERA in each of the last three seasons. The only other pitchers to lead MLB in ERA in three straight years are Lefty Grove (1929-31) and Greg Maddux (1993-95). That's it, that's the list.
Kershaw's dominance extends beyond simple ERA. After all, ERA is just a small piece of the pie. Here's a look at the top five pitchers in various statistical categories from 2011-13.
ERA
Kershaw - 2.21
Jered Weaver - 2.77
Cliff Lee - 2.80
Justin Verlander - 2.83
Madison Bumgarner - 3.12
Yeah, Kershaw's ERA is more than half-a-run lower than the next best pitcher these last three years. Ridiculous.
ERA+
Kershaw - 167
Verlander - 148
Lee - 139
Weaver - 137
Gio Gonzalez - 126
Another easy win for Kershaw. ERA+ takes into account ballpark and things like that. The higher the number, the better it is.
WHIP
Kershaw - 0.971
Weaver - 1.047
Lee - 1.049
Matt Cain - 1.089
Cole Hamels - 1.090
Innings Pitched
James Shields - 705 2/3
Verlander - 701 2/3
Kershaw - 697
Felix Hernandez - 670
R.A. Dickey - 667
Strikeouts
Kershaw - 709
Verlander - 696
Lee - 667
Hernandez - 661
Max Scherzer - 645
WAR
Kershaw - 20.6
Verlander - 20.5
Lee - 20.3
Hamels - 15.7
Weaver - 14.6
Kershaw is 25 years old. He won't turn 26 until March. He'll be a two-time NL Cy Young Award winner in a few weeks and you could make a very strong argument he should be on the verge of his third straight Cy Young.
Kershaw has gone beyond being an exciting young up-and-comer. At 25 years old, he's the best pitcher in the world and on a historic career path. A lot can change in the future, obviously, but few guys are this good, this young.
Show Comments
Hide Comments