Clayton Kershaw rocked in worst big-game moment of his career
It was quick, it was ugly and it was brutal. The Cardinals savaged the presumptive NL Cy Young winner in the third inning, and then ambushed him again in the fifth. With that, the Dodgers said goodbye to their third NLCS in six years with a 9-0 Game 6 loss. ...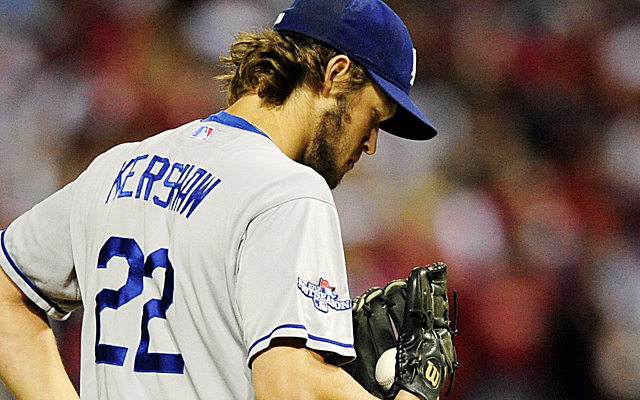 ST. LOUIS – You almost had to rub your eyes to make sure you were seeing things clearly: There was Dodgers ace Clayton Kershaw, Mr. Dependable all season, getting shelled on the Busch Stadium mound.
Of all the various scenarios you could have imagined going into Game 6, Kershaw being driven to the showers in the fifth inning of a 9-0 Cardinals' rout wasn't one of them.
The Dodgers never would have imagined it, either.
"You're optimistic coming into this game, hoping to look at a Game 7," manager Don Mattingly said. "You've got Clayton going, so it's funny how the season, everything you do comes to a screeching halt all of a sudden."
It wasn't so screeching in the third inning, when the Cardinals batted around and popped for four runs. Nor in the fifth, when they batted around again and scored five times.
By the end of that inning, Kershaw was long gone.
His four-run third was his worst inning since he surrendered six runs in the sixth inning of a game on July 24, 2012, also in St. Louis.
The last time he lasted so few innings – not counting one start he left early because he was ill with the flu – was Sept. 19, 2010, against the Rockies.
In the Dodgers' clubhouse, Kershaw took full responsibility, repeating over and over how terrible he felt for letting his team down. He also would have none of the stuff about how maybe he was tired after working on short rest in the Division Series against the Braves, or the possibility that his routine was interrupted by the possibility that he would start Game 5.
"Thanks for trying to find excuses, guys," he told reporters. "I just didn't pitch well."
It was only the second time in Kershaw's career that he was hooked after four or fewer innings and surrendered at least seven runs. The other time came on May 4, 2010, against the Brewers.
When the Cardinals batted around against him in the third inning, it was the first time a team did that against Kershaw since Aug. 14, 2009, at Arizona.
Matt Carpenter's brilliant 11-pitch at-bat in the third knocked Kershaw off balance. Three of the next four Cardinals rapped hits, and then Kershaw walked Matt Adams with two out on a close full-count pitch that the Dodgers thought should have been a strike.
"I think he threw 40 pitches in that inning," Mattingly said. "That's a lot. Obviously, on this night, we're going to let him go a little bit. But that's just a lot of pitches to recover from."