'Cleveland Plain Dealer' calls for no more Chief Wahoo
The hometown paper thinks the Indians should do away with their controversial logo.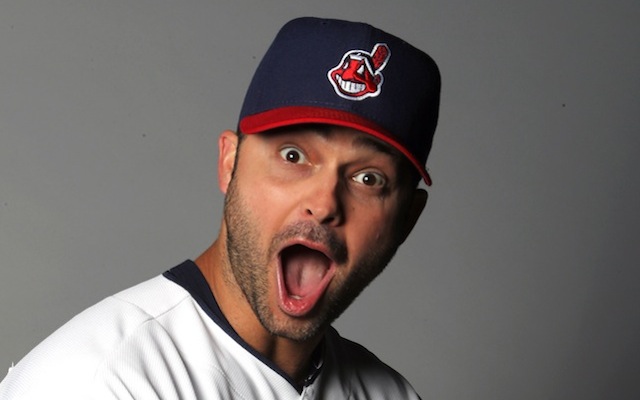 MORE: Spring Training | FA tracker: position players | FA tracker: pitchers
The Indians have rather quietly begun to move away from their "Chief Wahoo" logo in recent seasons, and that's in keeping with trends througout all of sports. However, Cleveland's daily newspaper, the Cleveland Plain Dealer, is now calling on the team to officially and thoroughly scrap any sanctioned use of Wahoo. The editorial board writes:
If Wahoo were all that harmless, the giant, neon Wahoo displayed at old Cleveland Municipal Stadium for years would have traveled across town when the team moved to Progressive Field in 1994. It didn't fit the architecture, the team said.

Now, the 35-foot sign occupies a spot in the Western Reserve Historical Society, where it belongs.

Just as that giant graphic image was retired from the line-up, smaller ones should be, too. That includes Wahoo-adorned promotions at the ballpark and small Wahoo patches worn on some of the players' hats and sleeves. A demeaning symbol is a demeaning symbol, regardless of degree.
This kind of thing -- the elimination of team symbols rendered impolitic by time, that is -- tends not to play well with rank-and-file fans, but there's no doubt the pressure is growing on this front. As long as the name "Redskins" exists, the Indians can't be classified as the "main offender" by any stretch of the imagination, but getting called out by the local rag constitutes another level scrutiny. 
As the PD notes, the Indians are already tacitly admitting there's a problem by scaling back the use of Wahoo. It just remains to be seen whether they take the final steps. 
Show Comments
Hide Comments
Our Latest Stories
Kazmir will begin the season on the DL

Tebow struck out twice against Scherzer and got a taste of an elite fastball

It seems unlikely Las Vegas will be atop MLB's list of destinations whenever they expand or...
The Raiders are moving to Las Vegas, but the A's remain committing to staying in Oakland.

Canseco is joining NBC Sports California to provide Athletics coverage this year

Mike Trout played a little prank on the Angels former pitching coach with the help of his...