Cole over Burnett is the right pick for Pirates (and it's not that tough)
Pirates manager Clint Hurdle made the right choice, when he took rookie Gerrit Cole over veteran A.J. Burnett as the starter for Game 5 against the Cardinals.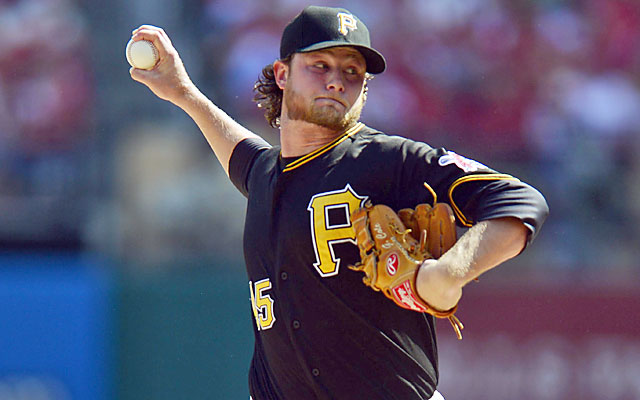 PITTSBURGH -- Clint Hurdle said it was a hard decision to start Gerrit Cole over A.J. Burnett.
"A very hard decision," Hurdle said, moment after naming his talented rookie instead of his erratic veteran to start the most important game the Pirates have played in 21 years.
I think he meant it was hard to decide how to tell Burnett, because choosing Cole for Game 5 shouldn't have been tough at all.
This isn't only about last week, when Burnett was terrible and Cole was great. This is about what the Pirates want to be, what they will be in the future, and who will lead them there.
Cole has a chance to become the Pirates' Justin Verlander, as I wrote this spring (and it's no coincidence that Greg Smith was the guy who drafted both of them). Cole has the power arm that plays in October, and the demeanor to make that work, even in a winner-take-all Game 5, on the road.
It's not about egos, not in October, and it's not about who deserves it more. And it's not about rest, because the off days in this series mean that the Game 2 starter (Cole) can come back for Game 5 on normal rest.
It's simply about who gives them the best chance to win, and it's pretty clear that's Gerrit Cole.
It's also about Busch Stadium. Burnett has pitched there five times since coming to the Pirates, including last week in Game 1. He's made it through the fifth inning just once in those five starts, allowing 31 runs on 37 hits in 18 innings.
"If this was any other venue, [Burnett] would have gotten the ball," Hurdle said.
Probably so, although no matter where Game 5 was being played, Gerrit Cole may still have been the better choice. But having bypassed Burnett, Hurdle knows he can't bury him.
He may still need him in the National League Championship Series, which the Pirates still have a real chance to get to -- because they're starting Gerrit Cole on Wednesday, instead of A.J. Burnett.
Show Comments
Hide Comments