Core Values: Cleveland Indians
Our 'Core Values' series continues with the Cleveland Indians.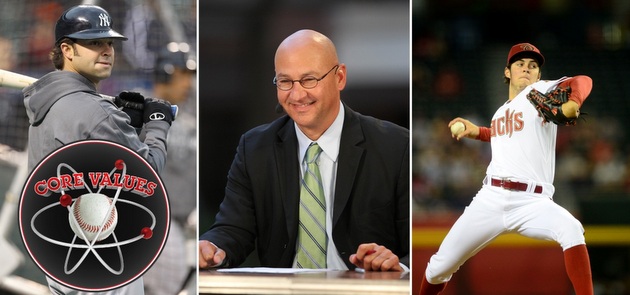 The Indians underwent a major facelift this offseason. (US Presswire)
We're beginning to approach the end of our "Core Values" series, which means spring training is right around the corner. Today, we'll examine the Indians, who went 68-94 in 2012 thanks to a miserable 18-44 finish. The franchise has been to the postseason just once in the past 11 years -- they lost to the Red Sox in the 2007 ALCS -- after qualifying for the playoffs six times in the previous seven years. It was time for a change, and that's exactly what Cleveland did this offseason.
Long-time Indians Grady Sizemore and Travis Hafner were allowed to leave as free agents while Shin-Soo Choo was traded in advance of his free agency next winter. Manager Manny Acta was replaced as well. In an effort to accelerate their latest rebuild, the Indians were aggressive in free agency and pursued big-name players like Shane Victorino and Edwin Jackson before they signed elsewhere.
Core Values series
Previous posts
For those who haven't been with us for the entirety of the series, I recommend reading the following to get an understanding of our methodology. For those who have been with us all along, feel free to skip ahead.
What's a core? For our purposes, a team's core comprises a "cornerstone player," a "face of the franchise" and then the "future face of the franchise."

So what's a "cornerstone player"? For starters, it's one of the best players on the roster and perhaps the very best player on the roster. Beyond that, though, it's the player whom the organization has identified as the talent around which to build by signing him to a long-term deal. In other words, they've backed their faith in the player's abilities with the most powerful statement of all: lots of redeemable U.S. currency. Not only do they see this player as central to their current aims but also to their designs on future contention.

What's a "face of the franchise"? He -- and we're getting subjective here -- is the player who most prominently embodies the franchise in question. He's that player whom you think about when you think about this team. Is he the same guy as the "cornerstone"? Sometimes. But the cornerstone is primarily a financial designation. The "face" is, for lack of a better term, a cultural identifier. They're not mutually exclusive, but they're not not mutually exclusive, either. What about the word "values" that you see in the headline above? After we identify and evaluate the three elements of the core, we're going to slap a letter grade on the whole thing.
And now, on to the core of the Indians.
Cornerstone players: Nick Swisher and Michael Bourn
The Indians were the pioneers of baseball's contract extension fad, signing young players like Manny Ramirez, Jim Thome and CC Sabathia to multiyear deals back in the 1990s and early 2000s under then-GM John Hart. They continue to employ that model today, but their cornerstone player is the biggest free-agent signing (in terms of total dollars) in franchise history.
Cleveland signed outfielder Nick Swisher to a four-year contract worth $56 million last month, a deal that includes a fifth-year vesting option worth $14 million. It was the first multiyear contract the team gave to a free agent since signing Kerry Wood to a two-year pact during the 2008-09 offseason. You have to go back to the David Dellucci deal (three years, $11.5 million) during the 2006-07 offseason to find the last time the Indians signed a free agent to a three-year contract.
Swisher, 32, has been one of baseball's most consistent players in recent years. He has produced an OPS+ between 120 and 129 in six of the past seven years to go along with 21-35 homers in all eight seasons in which he has been a major-league regular. He hasn't been on the DL since 2005, either, so he can be counted on to play every day. Durability is pretty underrated these days. The Indians agreed to pay Swisher a handsome sum this winter, and now he'll carry the torch as the club looks to return to the postseason.
UPDATE: And now, the Indians have added another free agent to a four-year deal, in speedy center fielder Michael Bourn. He's locked up for a four-year, $48 million deal that also has a vesting option for a fifth year. Bourn is a very good leadoff man and excellent defender.
Face of the franchise: Terry Francona
All of the changes this offseason mean lots of new faces next season, including the guy calling the shots in the dugout. Francona has strong ties to GM Chris Antonetti and president Mark Shapiro thanks to a brief stint in Cleveland's front office in 2001, so he agreed to run the team after serving as a television analyst in 2012.
Francona has nearly unmatched credentials. He led the Red Sox to their first world championship in nearly a century in 2004, then tacked on another title in 2007 for good measure. His résumé includes countless coaching jobs at the major-league and minor-league levels. And, by all accounts, his players love him. Much like when the Dodgers hired Joe Torre in 2008, the Indians' hiring of Francona is as much a statement that they're getting serious about winning as it is a pure managerial hire.
Face of the future: Trevor Bauer
The Diamondbacks made a number of trades this offseason that weren't exactly well received, and the Indians were the beneficiaries of one of those trades. The three-team deal with the Reds essentially sent Bauer to Cleveland for Choo, with some other parts changing hands all around.
Bauer, 22, was the third overall pick in the 2011 draft, and he is widely considered one of the very best pitching prospects in baseball. He dominated the minor leagues last summer -- 2.42 ERA with 157 strikeouts in 130 1/3 innings -- and made his big-league debut with a four-start cameo at midseason. Bauer reportedly fell out of favor with the Arizona brass because of his unwillingness to adjust his pitching style, but the pitching-starved Indians were happy to take the UCLA product off their hands. With all due respect to guys like Justin Masterson and former Indian Jake Westbrook, Bauer has the potential to be the Indians' best pitcher since Sabathia.
Grading the Indians' core: B
Beyond Swisher, Bourn and Bauer, the Indians have a fourth cornerstone-type player in catcher Carlos Santana. The 26-year-old switch-hitting backstop owns a career 127 OPS+ with 51 homers in just 344 games. The Indians wisely signed him to a five-year contract extension last April that will pay him just $21 million. Had it not been for the Swisher signing, Santana would have stepped right into the "Cornerstone Player" category no questions asked.
Cleveland's young core also includes Masterson and fellow starters Zach McAllister and Carlos Carrasco, the latter returning from Tommy John surgery. Vinnie Pestano and Cody Allen form the setup corps in front of closer Chris Perez, and the position-player group includes Asdrubal Cabrera, Michael Brantley, Jason Kipnis and Lonnie Chisenhall. The Indians also boast an excellent collection of shortstops in the minors, led by 19-year-old Francisco Lindor and 18-year-old Dorssys Paulino. Both are several seasons away from the big leagues, however.
It's going to take more than two big free-agent signings, one shrewd trade and one new manager to turn the Indians around, but the club took some big steps toward respectability this winter. The AL Central might be the weakest division in baseball despite the presence of the powerhouse Tigers, so getting back into the postseason might not take as long as Cleveland's 94-loss finish in 2012 suggests.
For more baseball news, rumors and analysis, follow @EyeOnBaseball on Twitter, subscribe to the RSS feed and "like" us on Facebook. Also, individually interact with us on Twitter: @MattSnyder27, @daynperry and @mikeaxisa.
Show Comments
Hide Comments
Our Latest Stories
The tournament began with first round play on March 6

A champion will be crowned on Wednesday night

A champion will be crowned on Wednesday evening
Kinsler says Team USA shows its passion in a different way

Team Puerto Rico has started a trend

Tuesday night's semifinal included rain, but conditions should be much better for the championship...