Core Values: Kansas City Royals
To help bridge the gap from the Hall of Fame talk to the day pitchers and catchers report, we've come up with this series where we examine the core of each major-league ballclub. Today's entry is the Kansas City Royals.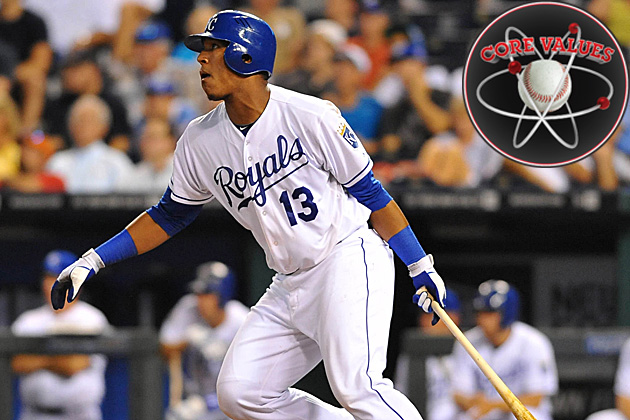 Perez has the long-term and team-friendly deal in place. (US Presswire)
To help bridge the gap from the Hall of Fame talk to the day pitchers and catchers report, we've come up with this series where we examine the core of each major-league ballclub. Today's entry is the Kansas City Royals.
If you've been with us for the entirety of this ongoing series, then feel free to skip the blockquoted section that follows, which is an explanation of what a "core" is and what constitutes a team's core, via the esteemed Dayn Perry:
What's a core? For our purposes, a team's core comprises a "cornerstone player," a "face of the franchise" and then the "future face of the franchise."

So what's a "cornerstone player"? For starters, it's one of the best players on the roster and perhaps the very best player on the roster. Beyond that, though, it's the player whom the organization has identified as the talent around which to build by signing him to a long-term deal. In other words, they've backed their faith in the player's abilities with the most powerful statement of all: lots of redeemable U.S. currency. Not only do they see this player as central to their current aims but also to their designs on future contention.

What's a "face of the franchise"? He -- and we're getting subjective here -- is the player who most prominently embodies the franchise in question. He's that player you think about when you think about this team. Is he the same guy as the "cornerstone"? Sometimes. But the cornerstone is primarily a financial designation. The "face" is, for lack of a better term, a cultural identifier. They're not mutually exclusive, but they're not not mutually exclusive, either. What about the word "values" you see in the headline above? After we identify and evaluate the three elements of the core, we're going to slap a letter grade on the whole thing.
Onto the Royals!
Core Values series
Previous posts
Cornerstone player: Salvador Perez
Just about one year ago, the Royals decided to give Perez a contract similar to what the Rays gave Evan Longoria very early in his career. It's a long-term deal that eats up arbitration years and has the potential to be very club-friendly, with minimal risk for the club. It's a big deal for small market clubs. Perez inked a five-year, $7 million deal before last season, but there are also club options for the following three seasons, so Perez could be locked up -- again, in a club-friendly deal -- through the 2019 season.
Perez is only 22 and has hit .311/.339/.471 with 14 homers, 60 RBI and 58 runs in 115 career games. He's a solid defensive catcher who threw out 41.9 percent (tops in the AL) of would-be base stealers last season and a fine centerpiece to the roster moving forward.
Faces of the franchise: Billy Butler and Alex Gordon
Butler comes with the stellar midwestern-like nickname of "Country Breakfast" and has been a fixture in the middle of the Royals lineup for the past half-decade. The love the KC fans have for him was on display in the Home Run Derby last season, even though he wasn't a participant. The .882 OPS, 29 homers and 107 RBI last season don't hurt, either.
As for Gordon, he went from being perhaps the hottest prospect name in baseball to a bust for a few seasons. But in 2011, everything started to click. Gordon is now one of the league's more underrated players. In the past two seasons, Gordon has hit .298/.372/.478 with good power, good speed and great defense. He has racked up 96 doubles in those two seasons, but also 27 stolen bases and two Gold Gloves. If you're into Wins Above Replacement (WAR), Gordon ranked seventh in the AL last season (Baseball-Reference.com version), behind only Mike Trout, Robinson Cano, Justin Verlander, Miguel Cabrera, Adrian Beltre and David Price.
While I don't think they are obvious faces of the franchise, these two guys are likely who immediately pop into your head when the Royals are mentioned -- unless you just think of George Brett, which is understandable.
Faces of the future: The young trio
Butler and Gordon aren't going anywhere for the next few years, but the nucleus of the team in the five-year range centers on Perez, first baseman Eric Hosmer and third baseman Mike Moustakas. It's rather obvious there's more to a nucleus than three players, and the likes of Alcides Escobar and Lorenzo Cain also heavily factor in here, but the Royals' development as a contender hinges on what kind of starting pitching they can get each year moving forward and how good the Perez-Hosmer-Moustakas trio becomes.
Also, do not ignore Bubba Starling. The 2011 first-round pick hit .275/.371/.485 with 10 homers and 10 stolen bases in 53 Rookie Ball games last season. He's a highly-touted prospect and should take over in center field a few years down the road.
Royals' core value: C. There's potential to get this thing a good amount higher, but there's also a lot of unknown. Are Moustakas and/or Perez going to become stars? Can Hosmer bounce back from a bad sophomore slump? Will Starling reach his potential? Can the Royals retain Butler and Gordon when they hit free agency (Butler has a club option for 2015, Gordon for 2016)? Will starting pitchers like Danny Duffy and Kyle Zimmer pan out? Is there any shot of holding onto James Shields? Etc., etc., etc.
Overall, there's reason for measured optimism in Kansas City, both in the short and long term, but there are many questions to be answered.
For more baseball news, rumors and analysis, follow @EyeOnBaseball on Twitter, subscribe to the RSS feed and "like" us on Facebook.
Show Comments
Hide Comments