Core Values: Philadelphia Phillies
Next up in our "Core Values" series are the Philadelphia Phillies.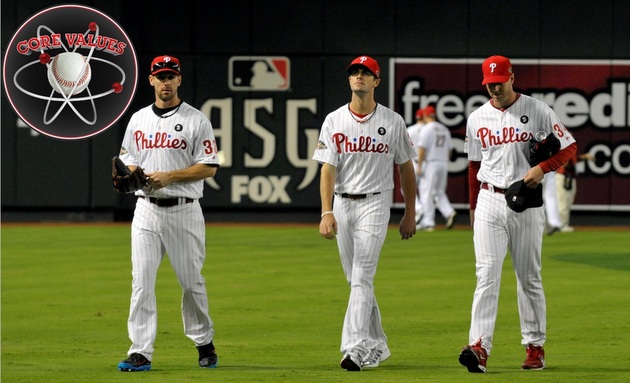 The faces of the Phillies are Cliff Lee (left), Cole Hamels (center), and Roy Halladay. (US Presswire)
Our "Core Values" series continues today with the Philadelphia Phillies , who went 81-81 last season after winning five straight division titles. GM Ruben Amaro Jr. added Michael Young , Mike Adams , John Lannan and others to a group that won 44 of its final 74 games in 2012.
As for what actually defines a "core" in our unscientific series, here's a refresher. Feel free to skip over the blockquotes if you've been with us since the start.
Core Values series
Previous posts
What's a core? For our purposes, a team's core comprises a "cornerstone player," a "face of the franchise" and then the "future face of the franchise."
So what's a "cornerstone player"? For starters, it's one of the best players on the roster and perhaps the very best player on the roster. Beyond that, though, it's the player whom the organization has identified as the talent around which to build by signing him to a long-term deal. In other words, they've backed their faith in the player's abilities with the most powerful statement of all: lots of redeemable U.S. currency. Not only do they see this player as central to their current aims but also to their designs on future contention.
What's a "face of the franchise"? He -- and we're getting subjective here -- is the player who most prominently embodies the franchise in question. He's that player you think about when you think about this team. Is he the same guy as the "cornerstone"? Sometimes. But the cornerstone is primarily a financial designation. The "face" is, for lack of a better term, a cultural identifier. They're not mutually exclusive, but they're not not mutually exclusive, either. What about the word "values" you see in the headline above? After we identify and evaluate the three elements of the core, we're going to slap a letter grade on the whole thing.
And now on to the Phillies ...
Cornerstone player(s): Cole Hamels
The Phillies have several big-name players signed to long-term contracts, but Hamels is the only one yet to reach his 30th birthday. The 29-year-old southpaw signed what was then the second-richest pitching contract in baseball history in July, a six-year deal worth at least $144 million.
Hamels just completed his third consecutive season of at least 205 innings with no higher than a 3.10 ERA, and only once in the last six years has he failed to crack 190 innings or post a sub-3.40 ERA. He's a three-time All-Star, a three-time top-eight finisher in the Cy Young voting, the 2008 World Series MVP, and yet I still feel that he's generally underrated. Hamels is a bonafide ace and one of the ten best pitchers in the world right now.
Face(s) of the franchise: The Rotation
Part of the reason I feel Hamels is so underrated is because the guys around him -- Roy Halladay and Cliff Lee -- tend to hog the attention. Those two have three Cy Young Awards between them, and along with Hamels they form the face of the franchise. When you think about the Phillies these days, you think about the front of their rotation.
A few years ago the Fightins were headlined by Jimmy Rollins , Ryan Howard and Chase Utley , but injuries and age have sapped the star power from Philadelphia's lineup. Lee and Hamels, however, remain workhorses of the first order while Halladay didn't have his first real bout with pitching mortality until last season. The nagging arm injuries that caused him to throw fewer than 220 innings for the first time since 2005 will hopefully be nothing more than a speed bump for the future Hall of Fame right-hander.
Face(s) of the future: Domonic Brown Ben Revere
The Phillies have traded an awful lot of minor league talent in recent years, including two young arms (Vance Worley and Trevor May) to the Twins for Revere back in December. The 24-year-old is about as close to a young Juan Pierre as you'll find, meaning he's a no-power (zero homers in 254 big league games) speedster (30-plus stolen bases in each of his two full seasons) who slaps the ball from the left side of the plate. Revere has the added advantage of being a standout defender in center field.
Brown, 25, has tried (147 games) and mostly failed (.236/.315/.396) in multiple big league stints over the last three seasons. Baseball America ranked him as the fourth-best prospect in the game as recently as 2011, but the Phillies have not given him an extended opportunity, and it's unlikely they will this year after signing Delmon Young . Brown is still incredibly talented and could break out as soon as this summer, but it's become increasingly more difficult to envision him as a long-term building block for the Phillies.
Grading the Phillies' Core: C
Hamels and Lee remain two of the game's elite pitchers and both Rollins and Revere are exciting speedsters, but otherwise the Phillies have a lot of older big name players who don't produce like they once did. Howard and Young fall into that category while Utley has not played in more than 115 games in three years now. Even Halladay, who once looked impervious to Father Time, showed some serious wear and tear last summer.
The Phillies, as much as any other team in baseball, have an obvious window for contention. Their time to win is right now, while they have those three guys at the top of the rotation and Jonathan Papelbon closing things out in the ninth. Utley and Carlos Ruiz are due to become free agents next winter while both Howard and Rollins remain productive, but not as productive as they once were. Top prospects like Jesse Biddle and Roman Quinn are years away from the big leagues and the guys who are ready to contribute, like 26-year-old Darin Ruf , aren't projected to be impact players.
Philadelphia is in a weird place right now because they're too good to tear down and rebuild but not quite good enough to beat out the Nationals and Braves in the NL East. The second Wild Card is likely their best hope for a third NL pennant in six years.
For more baseball news, rumors and analysis, follow @EyeOnBaseball on Twitter, subscribe to the RSS feed and "like" us on Facebook. Also, individually interact with us on Twitter: @MattSnyder27, @daynperry and @mikeaxisa.
Show Comments
Hide Comments