Could Chase Utley's brutal slide lead to rule change on take-out slides?
Chase Utley's brutal take-out slide in Game 2 of the NLDS, which broke Ruben Tejada's leg, could be the play that leads to a rule change.
Saturday night, Mets shortstop Ruben Tejada suffered a broken leg on a brutal take-out slide by Dodgers infielder Chase Utley in the seventh inning of Game 2 of the NLDS. The controversial slide allowed the Dodgers to tie the game.
Utley was originally called out before the play was reviewed and overturned. Tejada never did touch the base. Here is the play and various replays:
Take-out slides are as old as baseball itself, but in recent years they've come under fire simply because they're dangerous. It's not just Tejada having his leg broken. Look at Utley's head and neck snapping back. Take-out slides are dangerous for both the fielder and runner.
Last year MLB implemented some new rules designed to protect catchers -- and runners, to a lesser extent -- by eliminating collisions at the plate. Like take-out slides, home plate collisions have been around forever, yet the rules were changed for the sake of safety.
MLB will never admit it, but the changes to the home plate collision rules were spurred on by Buster Posey's injury a few years ago. Scott Cousins ran Posey over at the plate in 2011, and Posey suffered broken bones in his leg as well as torn ligaments. Here's the video:
At the time, the rules said that collision at the plate was legal. But a star player was seriously injured, which brought attention to the absurdness of the rules, and change was eventually made. It took some time, yes, but MLB had to get it right, and they did.
The Tejada injury is the kind of play that could potentially lead to a rule change that eliminates take-out slides. Is Tejada a big name like Posey? Of course not. But that was a huge moment. The Tejada play happened in a nationally televised prime time postseason game featuring two huge market teams. The ratings were surely through the roof.
How does baseball go about making take-out slides safer? For starters they can force runners to slide directly into the second base bag. Not alongside the bag, directly into it. That allows the infielder to step to the side of the base to complete the play, out of the way of danger. And no late slides either. Utley's slide was late.
"It certainly was late," said MLB executive Joe Torre during a press conference following the game Saturday. "That concerns me, the lateness of the slide. We're still talking about it. The umpire (gets) one shot (to make the call in real time). I can't fault him."
I'm certain a large segment of fans and players will oppose eliminating take-out slides -- plenty of people didn't want home plate collisions to go away, after all -- but MLB, the 30 clubs, and the players themselves have a duty to make the game as safe as possible. Utley and Tejada are not just baseball players. They're husbands and fathers. There's more at stake than an out at first.
Baseball is not a contact sport. Take-out slides are dangerous and Utley's slide Saturday is an extreme example. Given the attention the play has received, it's the type of play that could lead to a rule change, either this offseason or in the future. Eliminating take-out slides to protect middle infielders is long overdue. It's a shame it may have taken a play like that to create change.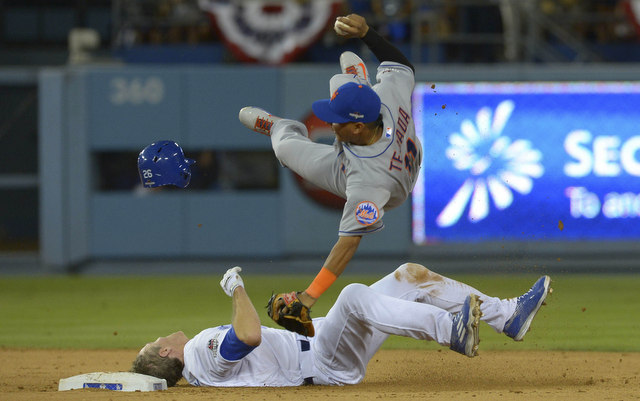 Show Comments
Hide Comments
Our Latest Stories
It was earlier reported Trump was in talks to do so, but he declined the invitation

An Auburn softball player did not appreciate how UF coach Tim Walton appeared to shove her

Boston will be looking to repeat as AL East champs but make a deeper run in the postseason
Kazmir will begin the season on the DL

Tebow struck out twice against Scherzer and got a taste of an elite fastball

It seems unlikely Las Vegas will be atop MLB's list of destinations whenever they expand or...