Creating baseball's perfect first baseman
In the second part of our ongoing series, let's see what kind of perfect first baseman we can put together from the skillsets of current major leaguers.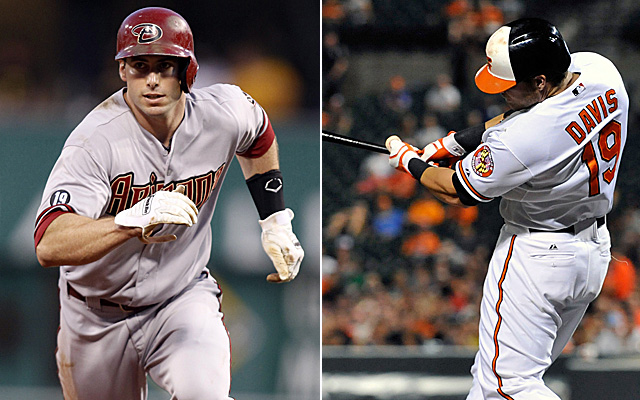 Part I: Creating the perfect catcher
Monday, we began a series where we'll put together what the ideal baseball player at each respective position heading into next season would be. For a little more information, definitely check out the introduction in that post.
For our purposes here, though, we're onto first basemen.
Baseball perfect first baseman would have ...
Joey Votto 's bat
A career .314 hitter who has topped .320 three times in the past five seasons. He's led the NL in on-base percentage each of the last four seasons and the majors twice in that span. The smooth left-handed swing helps things here, and narrowly gets Votto the vote over now-first-baseman Joe Mauer .
Also considered: Freddie Freeman , Paul Goldschmidt , Joe Mauer, Albert Pujols
Chris Davis ' power
This was actually a tougher call than it may have looked. Mark Trumbo , for example, can absolutely crush the ball. Mike Napoli had three homers of at least 460 feet last year and Anthony Rizzo tied Trumbo for the longest homer last season among this group (475 feet). And see below for some more sluggers with serious pure power in the "also considered" group. Davis wins here, though, by virtue of his huge pull power in addition to his easy opposite field power and the sheer volume of homers he hit in his breakout season.
Also considered: Adam Dunn , Edwin Encarnacion , Goldschmidt, Mike Napoli, Pujols, Mark Reynolds , Anthony Rizzo, Mark Trumbo
Joey Votto's plate discipline
He's led the NL in walks three straight years, despite having only played 111 games in 2012. Last season, Votto swung at only 20 percent of the pitches he saw outside the strike zone, a good 4.2 percent better than any other first baseman. Oh, and for those who don't think he swings at enough strikes, he ranked 12th among 25 qualifying first baseman last season in the percentage of strikes at which he offered.
Also considered: Mauer
Paul Goldschmidt's speed
Few first basemen are threats on the bases, but Goldschmidt has stolen 33 bases in 43 tries in the past two seasons. And how about this one? Goldschmidt took 21 extra bases last season while making zero outs on the bases (this stat is for attempting to take extra bases only, which doesn't include pickoffs, being forced out or caught stealing). As a comparison of someone else who is fast, Jose Altuve made 11 outs on the bases while taking 15 extra bases.
Also considered: Eric Hosmer
Anthony Rizzo's arm
Rizzo passes the eye test for sure and the stats back him up for having a great arm -- even if it isn't needed too often. He trailed only Votto in assists, but had more assists to second base and led the majors with five assists to home plate. Keep in mind this includes accuracy, as Rizzo only committed one throwing error all season.
Also considered: Mauer**, Votto
**Note on Mauer: We know he will have a cannon, just as Rizzo does. We don't know Rizzo wouldn't have had a cannon as a catcher just as we don't know how Mauer's arm will transition to first base, especially in terms of relay throws and accuracy on turning double plays. He's a fine choice, just not ours at this point.
Paul Goldschmidt's glove
The Gold Glover picks it with the best of 'em, and he's still only 26. The career .996 fielding percentage is nice, but we have to include range here, too, and Goldschmidt is already establishing himself as quality in categories like defensive runs saved and range factor.
Also considered: James Loney , Justin Morneau
Prince Fielder 's durability
Let the feeble-minded mock Fielder for his size, but in terms of conditioning and taking his spot in the lineup card, no one in baseball is more productive. Since taking over first base full-time in Milwaukee in 2006, Fielder has never been to the disabled list and has averaged 160 games per season. Since the beginning of 2009, Fielder has started 809 of his teams' 810 games. The last time he didn't start? Sept. 13, 2010.
Albert Pujols' intangibles
He's been a winner, he's played hurt, returned unbelievably quickly from injury and is one of the greatest postseason hitters in MLB history. While some youngsters (Goldschmidt) are closing the gap, when Pujols returns healthy next season, he'd still be the pick for two of us (Mike Axisa chose Goldschmidt while Dayn Perry and myself took Pujols) here. For me, assuming health, there's no other guy here I'd rather have up for my team when it needed a clutch hit. The career stats (late-and-close, RISP/2 outs, high leverage, etc.) back it up -- and while I've noted in the past that doesn't necessarily mean this will continue, my gut feeling is it will for Pujols.
Also considered: Goldschmidt
---
Wednesday: Creating baseball's perfect second baseman
Disagree with our picks? That's fine. Create your own perfect first baseman in the comments below.
Show Comments
Hide Comments