Cubs trade for backup catcher George Kottaras
Backup catcher George Kottaras, a cheap, decent on-base guy, has been traded to the Cubs.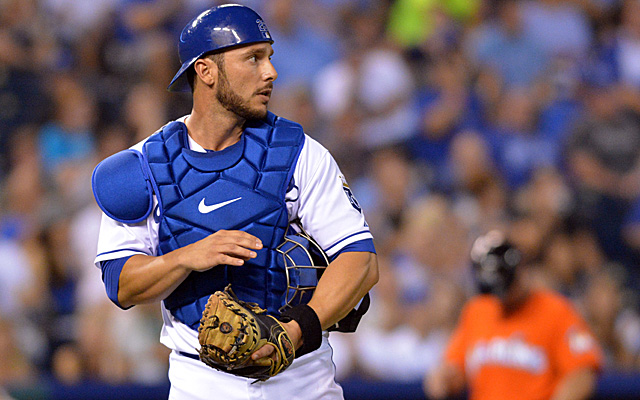 The Cubs have completed a trade with the Royals to bring in backup catcher George Kottaras, reports Jon Heyman of CBSSports.com.
Kottaras, 30, hit .180 last season and the low batting average is why he's an underrated backup. He draws enough walks and hits for decent enough power to mean he's not unproductive at the plate. His career slash line is .214/.324/.406 with 29 homers in 692 at-bats. In the past two years, he's had a .350 on-base percentage.
Kottaras won't cost much, as he's still arbitration-eligible and made $1 million last season. He previously played in the NL Central for the Brewers.
The move is a clear signal the Cubs don't expect to re-sign free-agent catcher Dioner Navarro, who hit .300/.365/.492 with 13 home runs in only 240 at-bats last season.
The starter behind the plate for the Cubs will remain 26-year-old Welington Castillo, who hit .274/.349/.397 with 23 doubles, eight home runs and 32 RBI last season in addition to rounding into a pretty solid defensive catcher.
As for the return the Royals will get, it's going to be very little -- probably just a bit of cash.
Show Comments
Hide Comments
Our Latest Stories
Misplaced priorities could cost the Blue Jays picking needless fight with Yankees

The All-Star outfielder said he instead wanted to be with his family

If your team is hoping to upgrade through free agency this offseason, we've got some bad n...
Gordon says since he doesn't have kids, hitting an HR for Jose Fernandez takes top billing

Teixiera also had a massive bat flip that he said he's never done before

Four signed balls and Jose Fernandez's checkbook washed up