Culbreth suspended, but not Hernandez? Here's why
Umpire Fieldin Culbreth was suspended for two games for messing up a rules interpretation. Why wasn't Angel Hernandez suspended? Because, technically, it's a judgment call.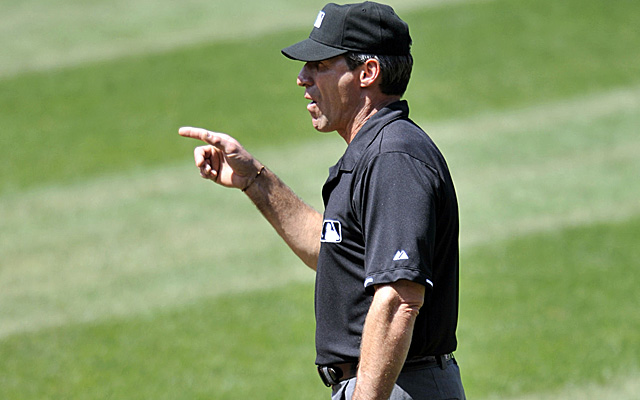 More MLB: Scoreboard | Standings | Probable Pitchers | Sortable Stats | Odds
Friday, Major League Baseball announced that crew chief Fieldin Culbreth was suspended for two games after his crew botched a rules interpretation. This came just one day after MLB had to admit that a Wednesday night a non-home run call by Angel Hernandez's crew was incorrect.
So, why was Culbreth suspended and Hernandez not suspended?
It's pretty simple, really.
While it was obviously an egregious error, Hernandez's mistake was technically a judgment call -- just like when Jim Joyce botched Armando Galarraga's perfect game, just like the famous Don Denkinger call, just like Ron Kulpa's botched call in Game 3 of the 2011 World Series and thousands of others.
Though Hernandez's mistake was awful and pretty much everyone with a working set of eyes knows it, it was still under the umbrella of judgment calls. And Major League Baseball cannot -- as much as we might emotionally want it to -- get into the business of suspending umpires for making poor judgment calls. That's a slippery slope from which the league would never recover.
Believe me, I'm no fan of Hernandez. I've gone after him several times in this space and even more on Twitter. He's an embarrassment to a profession that has far more great umpires than bad ones and probably needs to be served with an early retirement. But, in this case, MLB did the right thing by not suspending him.
That is, of course, assuming that there's no evidence of a theory floated by the great Peter Gammons on Friday.
On The Dan Patrick Show, Gammons suggested that Hernandez did not overturn the call because he's against the use of replay. So, his way of taking a stand was to ignore what he saw on video and make the call on the field stand no matter what, Gammons suggested (via Big League Stew).
If that is actually the case, Hernandez should be suspended for a large chunk of the season, if not outright fired. As an umpire, you cannot just pick and choose which rules to enforce.
That is why Culbreth was suspended. His crew neglected to enforce a rule that is set in stone.
If Hernandez really did ignore MLB's rules on replay reviews, he should be canned. Short of proof on this front, however, MLB did the right thing in not suspending Hernandez -- as much as many of us would love to see him punished.
Show Comments
Hide Comments
Our Latest Stories
What makes a successful Phillies season? First off, the youngsters need to keep progressin...

How a chance trip to the WBC championship game turned me from skeptic to believer

Jim Leyland's USA team won the World Baseball Classic, and he was emotional
The United States wrapped up the 2017 World Baseball Classic championship on Wednesday nig...

Let's take a quick walking tour of World Baseball Classic history

The United States conquered its first title on March 23