Dallas Keuchel's $7.25M deal shatters record for arbitration-eligible SPs
Dallas Keuchel and the Astros agreed to a $7.25 million contract for the 2016 season on Friday. That shatters the previous record for a starting pitcher in his first year of arbitration-eligibility.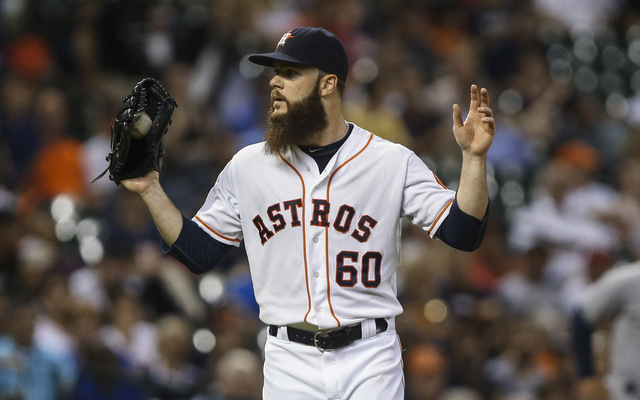 Friday was an important day on the offseason calendar. It was the deadline for teams and their arbitration-eligible players to file salary figures for the 2016 season. More than 150 players are up for arbitration this winter.
As always, the vast majority of the arbitration-eligible players agreed to a new contract before the filing deadline. The arbitration process can get pretty ugly, so the two sides always do as much as they can in an effort to avoid a potential hearing.
Reigning AL Cy Young award winner Dallas Keuchel agreed to a new contract with the Astros before the deadline. The one-year deal will pay him $7.25 million in 2016, reports Evan Drellich of the Houston Chronicle. Keuchel will be arbitration-eligible again in 2017 and 2018 before qualifying for free agency.
That $7.25 million salary is a record for a starting pitcher in his first year of arbitration eligibility. The previous record was $4.35 million, shared by David Price and Dontrelle Willis. Keuchel beat the old record by nearly 67 percent. A new precedent has been set.
It should be noted that, due to his service time, Price went through arbitration four times as a Super Two player, not three like most other players. When Price was three years from free agency like Keuchel is right now, he made $10.113 million. So yes, Keuchel broke Price's record for first-time eligible starters, but it is an apples-to-oranges comparison.
Earlier this offseason Dayn Perry looked at what it might take to sign Keuchel through his arbitration years. Yes, he is still three years from free agency, but signing him to a three-year deal now would give the Astros some cost certainty in case he continues winning Cy Youngs and his arbitration earning potential explodes.
Dayn came up with $30 million or so over the three arbitration years for Keuchel, which appears to be in the ballpark. His salary breakdown the next few years could look something like this:
2016: $7.25 million
2017: $11.25 million
2018: $15.25 million
That works out to $33.75 million total, though the whole point of a three-year deal would be trading maximum earning potential for guaranteed money. Keuchel could take a slight discount in exchange for the $30 million guarantee. Then he wouldn't have to worry about getting injured or anything like that.
Of course, if Keuchel wins another Cy Young at some point, his arbitration salaries the next two years will skyrocket and that $30 million will look like a bargain. He would also likely set even more arbitration records.
Show Comments
Hide Comments
Our Latest Stories
The 2015 NL MVP wasn't nearly as good in 2016, but the team around him was much better

Eduardo Nunez is not content to watch a ball fall harmlessly behind the plate for a strike

It's the Nats' third division title in the last five years
Runs are hard to come by for the Yanks right now

Jose Fernandez won't be starting on Sunday against the Braves as planned

Detroit suffers a crushing loss on a Royals rally to fall into a tie for the second wild c...