Damon says he 'got booted' from MLB because he didn't use PEDs
Ex-big leaguer Johnny Damon believed he could have extended his career if he used PEDs.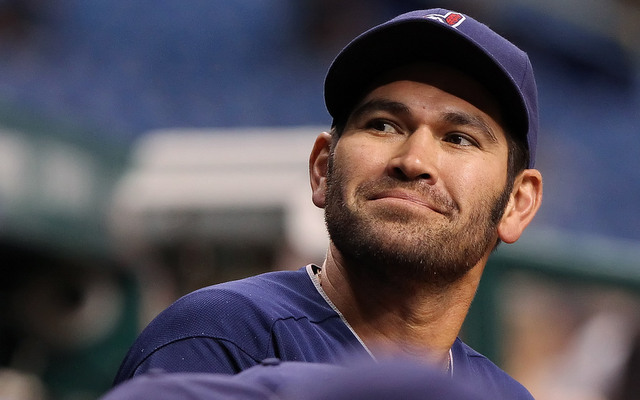 More MLB: Power Rankings | Expert Picks | Latest news & notes | Fantasy news
Johnny Damon spent nearly two decades in the big leagues as a consistently above-average, occasionally All-Star caliber outfielder who racked up 2,769 hits, 235 home runs, 408 steals and two World Series rings. He last played with the Indians in 2012, when he managed only a 72 OPS+.
Damon did not sign with Cleveland until the middle of April, and last season he was unable to land a job after playing with Team Thailand during the World Baseball Classic. At 38 years old, it was clear his borderline Hall of Fame career was coming to an end. While speaking with CBS Sports Radio in Orlando, Damon implied he could have kept playing with the help of performance-enhancing drugs (text via NJ.com):
"I played it clean," Damon said. "I think I'm one of the only players to come out and say, 'I guarantee you there is nothing I've done that enhanced my baseball career.'"

...

"You can't fault someone who has a chance to make $20 million, $50 million, $100 million for going against the system to get to where they are," Damon said. "You can't fault them, but I'm as clean as they came and I got booted out of the game because I'm clean."

...

"Think about all the guys who have signed big contracts," Damon said. "I sound bitter but I'm really not. I have six great kids and I get to be around them every day. But there are certain guys who have gamed the system and they still are being patted on the back. ... I'm good, but I just don't want the young kids thinking about [using]."
Damon was essentially forced into retirement. He never officially filed papers -- at least it was not reported that he did -- but teams simply stopped calling. It's not the first time it happened and it sure won't be the last.
Maybe Damon is right and he could have hung around for another year or two with the help of some banned substances. PEDs are not some magic pill though -- contrary to popular belief, it seems -- players can't just take them and stay productive forever. Believe me, if they could, there would be many more 40+ year olds in the game right now.
Show Comments
Hide Comments