Darvish hits 96 on the radar gun, tosses soft barb at Daisuke
Yu Darvish picked up more admirers, including Ryan Braun, in a decent third start for the Rangers as he endeavors to prove he's worth the Rangers' $111-million investment.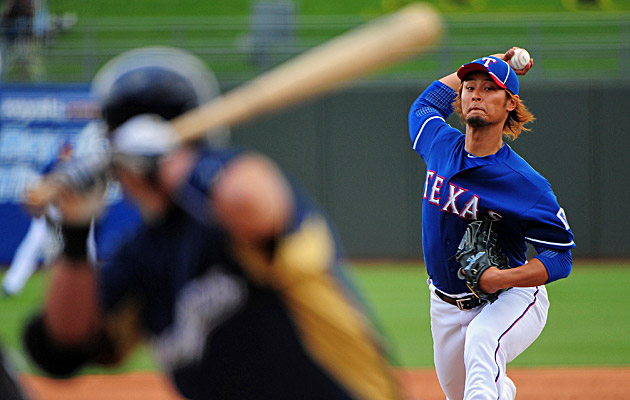 While scouts seemed impresssed, Darvish gave himself a good-but-not-great review. (USPresswire)
SURPRISE, Ariz. --International sensation Yu Darvish showed decent velocity, a very good two-seamer and a bit of a sense of humor on the occasion of his well-covered third start of the spring. Though Rangers officials figured he was just warming for the season, scouts had him clocked at 93-96 mph and his comedy was in midseason form, suggesting his "gyroball'' was "probably behind'' today in an apparent humorous little dig at his predecessor Daisuke Matsuzaka's phantom pitch.
In the end, the coverage outsripped Matsuzaka's performance, and his rehab pitches are still drawing reporters in Fort Myers. But most of the Japanese press has moved over here to see if Darvish will live up to the extraordinary hype while simultaneously adding to it. Darvish is no mirage in Japan, as the coverage has been enormous for the $111-million talent. The focus is squarely on him, though Darvish tried to squash it by doing some very American downplaying, saying he didn't have to be another C.J. Wilson, the ex-Rangers ace who bolted for the rival Angels for $77.5 million. "I don't feel pressure that I have to replace him or match his numbers,'' Darvish said. "The only thing I can do is prepare well for each start.''
That might be true for now, but the Rangers' outlay of serious cash guarantees that the expectations will be enormous for the tall, talanted righthander, who allowed one run and three walks while striking out four in four innings against the Brewers. Current Rangers PR man extraordinaire John Blake happened to be the Red Sox's top PR guy when Matsuzaka showed up in Fort Myers with a $103-million price tag and seemingly half of Japan tailing him, and Blake says the level of coverage has been about the same for Darvish. That is to say, like his pitches, over the top.
Scouts seemed impresssed by Darvish's third outing but he mostly gave himself a good-but-not-great review, noting that he "can't really repeat'' his delivery right now the way he'd like, but that he is unworried with a few starts to go here. Regardless, he noted how "comfortable'' he felt on the mound while drawing a contrast with Brewers hitter, about whom he said looked "uncomfortable'' trying to deal with his darting two-seamer.
While the results through three starts have been fairly unremarkable, the praise has been lavish. "He throws downhill,'' said Brewers Ryan Braun, who went 0 for 2, said. "He has a presnce on the mound.. You could tell he's comfortable. He's poised. He competes.'' (Darvish showed some diplomacy, complimenting Braun's swing while declining to comment on his other issue: "I'm still new here ... It's not really for me to say. But the results are out. We have to accept that. That should not take away from his greatness.'')
Darvish's greatness is really the question over here, anyway. But from what little folks can tell in spring training, the hype remains high.
He surely does seem calm and poised, and he doesn't appear to worry. Not that his control wasn't a tad off, not that it didn't take him 70 pitches (including 31 balls) to get through the four innings, not that journeyman Travis Ichikawa didn't reach twice via walk. Norichika Aoki, a three-time Japan League batting champion who'd been struggling in his first spring here, knocked in the only run off Darvish with a bouncing single up the middle.
"In every spring I'm ususually not sharp,'' Darvish said. "In my situation right now I don't see much different from my previous springs.''
Oh, there's nothing different, except maybe the attention, the competition and the expectation -- in other words, just about everything except his pitches are different.