Davey Johnson: Nats 'probably' win 2012 World Series with Strasburg
With the Nationals being out of playoff contention this season, it seems that some want to go back to last year's shutdown of Stephen Strasburg.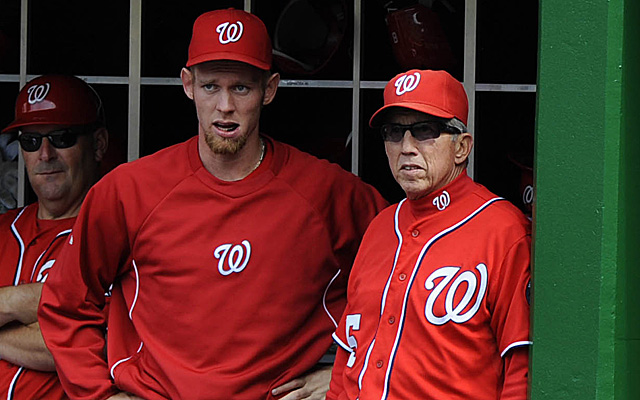 More MLB: Scoreboard | Standings | Probable Pitchers | Sortable Stats | Odds
With the Washington Nationals eliminated from postseason contention recently, some discussion on the team has predictably -- and annoyingly -- gone back to the shutdown of ace Stephen Strasburg last season.
John Feinstein wrote a column in which he blames the failure of 2013 on the shutdown (which was summarily disputed by Feinstein's colleague who covers the Nats, Adam Kilgore).
Thus, it's been big news in the D.C. area.
Soon-to-be-retired Nationals manager Davey Johnson was on 106.7 The Fan in D.C. to discuss the drama. As far as Feinstein goes, Johnson simply said, "I say he's an idiot."(CBS Washington)
As far as how the Nationals would have fared with a healthy Strasburg down the stretch last season, Johnson said they "probably" would have won the World Series if not for the great shutdown. (CBS Washington)
Johnson's on his way out and has every right to his opinion. And they may well have won the World Series with Strasburg. Still, they had that NLDS Game 5 in the bag against the Cardinals and the bullpen blew it. Had that not happened, maybe they win it all without him? They could also have been bounced in the first round with Strasburg. It's not like he's never made a bad start and the Cardinals had a pretty stout offense.
We'll never know. I see no reason to continue to harp on this situation. Look, I understand second-guessing -- in fact, at the time of the shutdown I said I wished they had been more creative with Strasburg's situation -- but failing to make the postseason in 2013 has absolutely nothing to do with the Strasburg shutdown. Saying otherwise is an emotional response, not a factual or rational one.
Now can we please get over something that happened over a year ago?
Show Comments
Hide Comments
Our Latest Stories
Hosmer is one of many Royals nearing free agency

Niese isn't that far removed from being useful

Your feel-good moment of the college baseball weekend
The Union head weighed in on the ongoing drama between the Yankees and one of their star r...

The Red Sox youngster said he was going deep and he did on the first pitch

Jason Heyward's new swing, the health of the Mets' rotation and more question marks for NL...