David Price makes history amid trade rumors, admitted bad mood
The David Price trade rumors are heating up and he could well be dealt before his next start. Meanwhile, he struck out at least 10 batters for the fifth straight game. That's something very few in MLB history have ever done.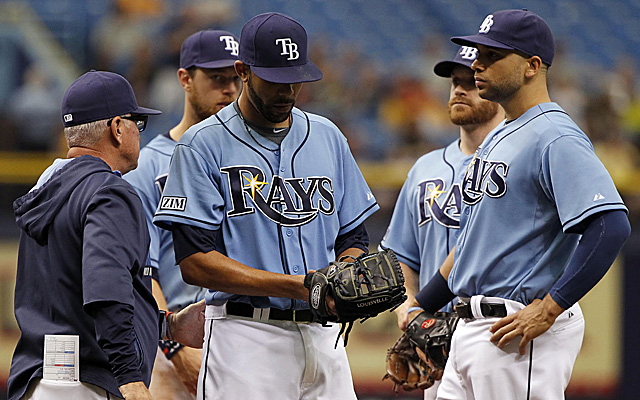 More MLB: Power Rankings | Expert Picks | Latest news & notes | Fantasy news
Rays ace David Price will be an afterthought on the nightly MLB rundowns, nationally, due to the no-hitter by Tim Lincecum, but he had quite the outing and deserves to be praised for his recent work on the mound.
The 28-year-old lefty struck out 11 and walked one while allowing five hits and a run -- an Andrew McCutchen homer in the ninth -- in 8 1/3 innings of work. He helped the Rays pick up a 5-1 victory over the Pirates and also made a little history.
With the 11 strikeouts, that means Price has now struck out at least 10 batters in five straight games. That's pretty rarified air.
This marks the 22nd time in MLB history (view full list on baseball-reference.com's play index by clicking here) that a pitcher has strung together at least five starts with double-digit Ks. The last time someone did was was in 2004, when Johan Santana did it. Curt Schilling, J.R. Richard and Dwight Gooden also have done it once.
Every other occasion on the list belongs to Pedro Martinez (six times), Randy Johnson (eight times) and Nolan Ryan (three times).
In fact, the only three players in MLB history to string together more starts with at least 10-plus strikeouts are Martinez, Johnson and Ryan. Martinez had an eight-game streak once while each of the three had a seven-game streak once. Johnson had four more six-game streaks while Martinez and Ryan each added another. Price could join that elite company with a 10-strikeout game next time out.
Of course, will that next start even come with the Rays? That's the only team he's ever known, but with the Rays definitely out of contention and sure to be blown away if Price reaches free agency after the 2015 season, the time is now for a trade. One report Tuesday said the Rays are ready to trade Price now.
There were a few more signs Wednesday. Like this:
#Rays Price said cap tip and wave was to thank fans: "If this is my last game here, thanks."

— Marc Topkin (@TBTimes_Rays) June 25, 2014
Or this? Maybe?
#Rays David Price's agent Bo McKinnis in attendance at the Trop along with Price's father

— Chris Fischer (@ChrisFischer07) June 25, 2014
The trade rumors have put Price in a bad mood recently, he admitted:
"That's why I've been in a bad mood the last week and a half," he said (ESPN.com). "I think about it. You guys know that. And it's nothing I really want to talk about. I don't have an answer for you guys. I don't know where I'm going. I don't know when I'm going. So there's nothing I can really comment on."
It's refreshing but not really surprising to see a player openly admit he's bothered instead of hiding it. I say it's not surprising because those of us who have dealt with Price know that he's always open to answering any question honestly. He once said he'd never sign with the Yankees due to their no facial hair rule -- even though such a declaration might end up costing him money in the long run (not that he'd sign with the Yankees, but having the Yankees in on the bidding can drive up the price on others).
Regardless, Price is firing on all cylinders right now (144 K and 14 BB in 124 IP on the season). His next start could well be the first time in MLB history that a pitcher records double digits in strikeouts in six straight games, aside from the holy triad of strikeout artists Pedro, The Ryan Express and The Big Unit.
If it does happen, which uniform will Price be wearing?
Show Comments
Hide Comments