Derek Jeter's setback exposes the flaw in the Yankees' plan
The New York Yankees hoped to survive the first few weeks of the season with a makeshift lineup and then watch their stars get healthy. But there was always a flaw in the plan, as Derek Jeter's setback on Thursday reminds us.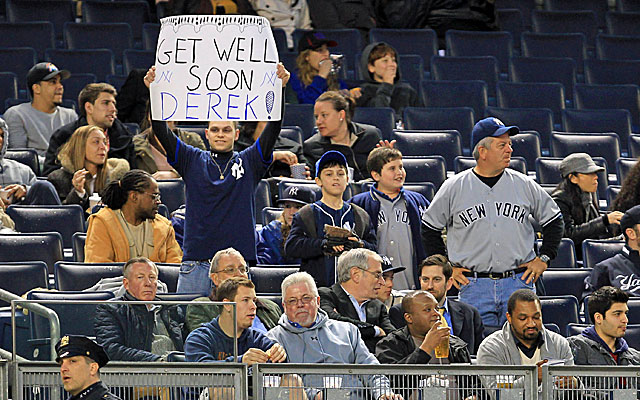 All they had to do was survive the first couple of weeks.
Or the first month.
Or ...
What, you say Derek Jeter isn't coming back until after the All-Star break?
Yes, that was always the flaw in the plan. That was always the big Yankees issue, the one that they never really wanted to admit.
They could never be sure they just had to survive for a few weeks or even a few months. They weren't dealing with injuries that had definite timelines, and they weren't dealing with young players whose bodies can be expected to heal on schedule.
No, they couldn't expect Jeter to suffer a setback like the one that he had Thursday, a small crack found in his surgically repaired left ankle. But with a soon-to-be 39-year-old shortstop coming off major ankle surgery, they couldn't count on a smooth recovery, either.
Even now, they can't know what Jeter will be like when he does play again, whenever that is.
They can't know what Mark Teixeira will be like, either. If a severe ankle injury makes you wonder how a 39-year-old shortstop will be able to move, a wrist injury has to make you wonder how well a 33-year-old first baseman will be able to swing a bat.
And what about a soon-to-be 38-year-old third baseman trying to come back from a second hip surgery? The Yankees can't really be sure what they'll get from Alex Rodriguez, even if he does return sometime in the second half of the season.
Already, the Yankees have pushed back the expected arrival dates for Teixeira and Curtis Granderson, with general manager Brian Cashman saying Thursday on New York's Michael Kay Show that it's likely to be closer to May 15 than May 1. Two weeks ago, the Yankees were suggesting that a May 1 return could be possible for Teixeira, Granderson and Jeter.
The Yankees actually have done pretty well with their makeshift lineup (feels funny to call any lineup makeshift with a $200 million payroll). They've gotten production from Kevin Youkilis. Vernon Wells has been better than expected. Even Travis Hafner contributed with a game-winning pinch-hit home run on Wednesday.
Eduardo Nunez, Jeter's primary stand-in at shortstop, hasn't been the defensive nightmare that some had feared he would be.
And the pitching has been good enough for the Yankees to win seven of their last eight games, entering play Thursday night.
They've survived just fine, so far. The fill-ins have kept them from falling apart. And if the regulars were close to being ready to return (and sure to be as good as ever), then the Yankees could easily bill themselves as a contender.
But the idea was that by sometime in May, the Yankees would be basically healthy.
We know now that's not happening. We never should have expected it.
Show Comments
Hide Comments