Despite no 'ace,' Orioles are absolutely a World Series title contender
"Great pitching always beats great hitting" or "they can't win it all without an ace" might be said in the upcoming weeks regarding the Orioles. Don't listen to it. They can definitely win it all.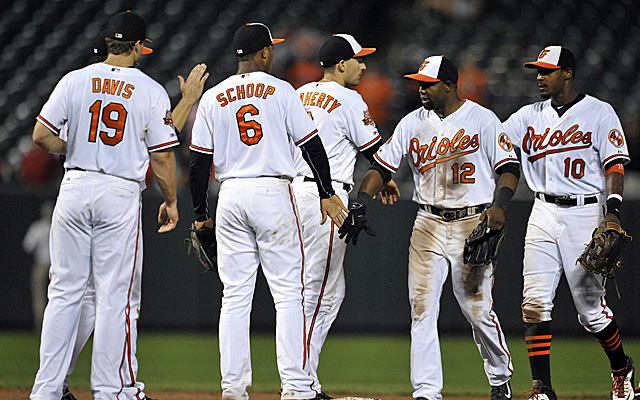 Wednesday, my colleague Dayn Perry put together an outstanding dream scenario in which there would be total chaos to end the 2014 Major League Baseball regular season. One team that was left out of the chaos was the Baltimore Orioles , because they have such a huge lead in the AL East, it doesn't seem realistic anyone can catch them.
Indeed, the lead now sits at 9.5 games with 23 to play. Remember that historic Red Sox collapse a few Septembers ago? Yeah, that was nine games on Sept. 3 and it was the worst ever collapse in the month. Obviously anything within reason is possible, but it's pretty safe to say the Orioles are likely to win the AL East.
From there, it got me thinking about the postseason. That is, who can win the World Series? I believe right now there are more than a handful of teams that wouldn't be bad picks.
I also started thinking that, despite having one of the best records in baseball -- if not the best come the end of the season -- the Orioles won't be a popular pick to win the World Series. No, I can't be certain, but I have a strong feeling this will be the case, and here's why:
Chris Tillman , Wei-Yin Chen , Bud Norris and either Miguel Gonzalez or Kevin Gausman ; aka the playoff rotation. 
That is, I believe that when many fans and media alike take a look at the playoff teams, they're gonna see a supposed void in the Orioles rotation.
We might hear, "great pitching always beats great hitting."
Or maybe it'll be, "they don't have an ace. You can't win it all without an ace."
Something along those lines, right?
Not only do I think the Orioles can win the World Series, I think they'd be my pick if the playoffs started right now.
Before getting to the Orioles, specifically, though, let's discuss those two hypothetical statements above.
Great pitching always beats great hitting
Does it? The 2013 ALCS begs to differ. The Red Sox had the best offense in baseball while the Tigers boasted an outstanding starting rotation, especially since Justin Verlander was pitching like his old self in the playoffs. The Red Sox got off to a rocky start, sure, but they ended up only needing six games.
Go to the World Series, too, with Adam Wainwright and Michael Wacha at the top for St. Louis. The Red Sox got eight runs in a game started by Wainwright and six in a game started by Wacha, winning both en route to a championship.
You can't win it all without an ace
Are we certain? The definition of an ace is, of course, in the eye of the beholder at times. How about the 2012 World Series, though. It's easy to say the Giants had an ace in Matt Cain , but he wasn't used until Game 4, when they already had a 3-0 lead. Barry Zito faced off against Verlander in Game 1 and the Giants won 8-3. In Game 2, it was Doug Fister taking on Madison Bumgarner . The young Bumgarner was shelled so badly in his first two starts that postseason (11.25 ERA) that it had been 11 days since he last pitched. The Giants won that game. Even though Cain threw Game 4, the Giants won that game once both starters had long since departed.
If that doesn't work because Cain was an "ace," how about the 2011 Cardinals. Chris Carpenter ? He was 11-9 with a 3.45 ERA (108 ERA+) that season. The Orioles have better than that right now.
Obviously it doesn't hurt to have a Clayton Kershaw type in the rotation, but -- oh by the way -- the Dodgers lost both of his NLCS starts last season, losing the series in six games.
Not having a bona fide ace isn't a dealbreaker in the postseason. Let's not pretend is it.
Anyway, with all that out of the way. Here's why I think the Orioles are primed for a deep playoff run as things stand.
Power
Boy, do they crush the ball. In an era where power is increasingly becoming harder to find, the Orioles have it in spades. Last year they hit 212 homers to lead the majors, with no other team topping 188. After Thursday night's win, the Orioles already have 185 homers, leading the majors by a whopping 25.
I guess it's fitting this is the Orioles, because Earl Weaver's old adage could well ring true multiple times this postseason. With runs now at such a premium, a timely home run (Earl wanted the three-run variety) can swing the entire momentum of the game and maybe even a series. In fact, to go back to the well with the 2013 ALCS, remember that David Ortiz grand slam? People were already burying the Red Sox before that one swing.
That could happen again, whether it's Nelson Cruz , Adam Jones , Chris Davis or someone else.
Back-end of the bullpen
Among AL teams, only the Mariners, Indians and A's have a better bullpen ERA, but the Orioles have it where it is most needed in the postseason: The three back-end spots.
Zach Britton has been an unbelievable closer after being thrust somewhat unexpectedly into the role early in the season, closing down 33 of 36 chances with a 1.84 ERA and 0.86 WHIP. He's also stranded nine of the 10 runners he's inherited. 
In front of him, it's Darren O'Day (1.34 ERA, 0.90 WHIP, 64 K, 60 1/3 IP, 76% strand rate) and lefty Andrew Miller (1.42 ERA, 0.87 WHIP, 86 K, 55 IP, 85% strand rate).
These three could effectively shorten a game to six innings if need be, and there are a few others (Thursday's quasi-meltdown notwithstanding) out there fully capable of coming through when the situation calls for it.
Speaking of which ...
Buck Showalter
Few managers in baseball are as adept at putting their players in the right position to succeed than Showalter. He's already navigated through major injuries ( Matt Wieters , Manny Machado ), underperformance (Davis, Ubaldo Jimenez ), a closer change ( Tommy Hunter ) and more. No matter. The Orioles still find a way to get it done with his mixing and matching. He's a maestro. That will be even more magnified in the postseason, especially with bullpen matchups in a series setting.
They've been the best for a while
Can I cherry-pick a date if I promise it's a long time ago? Please?
Remember, the Orioles went through several issues to begin the season. I mentioned a few examples above. They found a way to get through June 29 with a 42-39 record, which was good enough to be within striking range in a bad -- at the time -- AL East.
Since then, the Orioles have gone 40-18 (.690, which is a 162-game pace of 112-50). That's more than one-third of a season, too, so I don't think it's small enough to be called fluky. That is the best mark in the majors in that frame. Only the Angels are within 3.5 games in this sample.
The rotation is good and deep enough
OK, so they don't have an "ace." They have zero pitchers among the top 30 in ERA among qualified starting pitchers. Overall, though, it's not bad. They entered Thursday ranking sixth in the AL in rotation ERA, and that's including Jimenez's 4.83 mark as a starter. Tillman, Chen, Norris and Gonzalez all have above average ERA+ figures with little separation. 
Perhaps the best part of having such balance and depth is that there won't be a significant drop-off from game to game in the postseason. Sure, if there's a losing streak, there's no so-called "stopper" a la a King Felix, but the flip-side of that is what happens when the ace loses? Now all of a sudden, the team with the big-time ace is at a disadvantage. The Orioles have four good pitchers with relatively similar levels of production. Each game should have the same feel.
To reiterate the above points, too, the games should feel shortened for these starters with the good bullpen and Showalter will find the correct time to make pitching changes more often than not. Thus, I'm not worried about the Orioles being saddled by the rotation in the playoffs.
So there you have it. That's my sell-job for the Orioles. I don't know if I'll be picking them to win it all come Sept. 29, but I can tell you this: If I don't, it won't be because I'm only looking at the pitching matchups. There's a lot more to this Orioles team than that. They're a very legitimate threat to win the World Series.
Show Comments
Hide Comments