Details and first screen shots of MLBAM's 'RBI Baseball 14' released
MLBAM is reviving the 'RBI Baseball' franchise for the 2014 season. Here are some details and screen shots of the new game.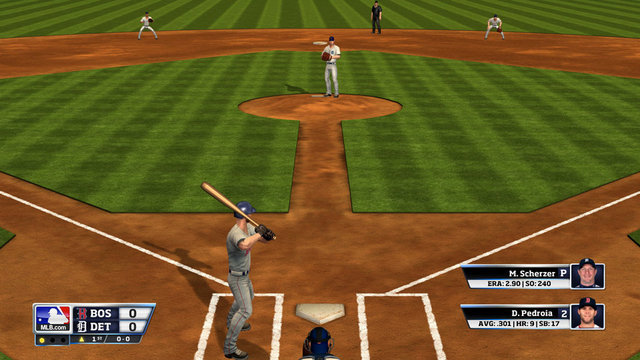 MORE: Spring Training | Scoreboard | FA tracker: hitters | FA tracker: pitchers
Back in January, we learned MLB Advanced Media will be reviving the long dormant RBI Baseball franchise for the 2014 season. The game was last released in the mid 1990s. There were not many details available at the time of the announcement, just that the game was on the way.
Thanks to Samit Sarkar at Polygon, we now have some details. RBI Baseball 14 will not be a hardcore simulator designed to rival Sony's ultra-popular MLB The Show franchise. Instead it will be a simple, arcade-style game, similar to the original version. Here's more from Sarkar:
MLB Advanced Media is pairing that real-life foundation with a stylized look that sits somewhere between cartoonish and realistic, as you can see in the PlayStation 3/Xbox 360 screenshots above. While R.B.I. 14 features real baseball players — 16 on each of the 30 MLB clubs, a total of 480 — each of them appears in one of three body types. It's the kind of visual shorthand that sports games have used for decades: Big guys are sluggers, slim players are contact hitters and athletes of average build are balanced.

The modes in R.B.I. 14 are similarly basic. Three are available: You'll be able to play one-off exhibition games, take a team through a season (a full 162 games or less) or start at the beginning of the postseason. Each team has three jerseys — home, road and alternate — and you can gain access to a fourth uniform, a retro jersey, by completing a challenge in the season mode. The unlockable uniforms include the Brooklyn Dodgers jersey and the yellow jersey for the "We Are Family" Pittsburgh Pirates of 1979.

R.B.I. 14 won't offer any of the deeper, more expansive modes that fans of simulation sports games may be used to, such as single-player career modes or online leagues. In fact, R.B.I. 14 doesn't feature online play at all; multiplayer action is limited to local one-on-one games.
The game is designed to be fast-paced so the user can play a full nine innings in about 20 minutes. The Show's realism is off the charts, but unfortunately that means games can take forever to play. The fast pace of RBI Baseball 14 will be a welcome feature.
RBI Baseball 14 will be made available on all platforms, including Xbox 360 and Xbox One, Playstation 3 and 4, as well as mobile devices. Launch is expected in early April, later for the next gen systems. There will not be a hard disc; the game will instead be available via digit download. Prices have not been announced.
Make sure you check out the Polygon piece for more screenshots and details about the upcoming game.
Show Comments
Hide Comments