Dodgers and GM Colletti are talking about an extension
The new deal is expected to guarantee two more years for Ned Colletti, who has had the busiest year of just about anyone in baseball.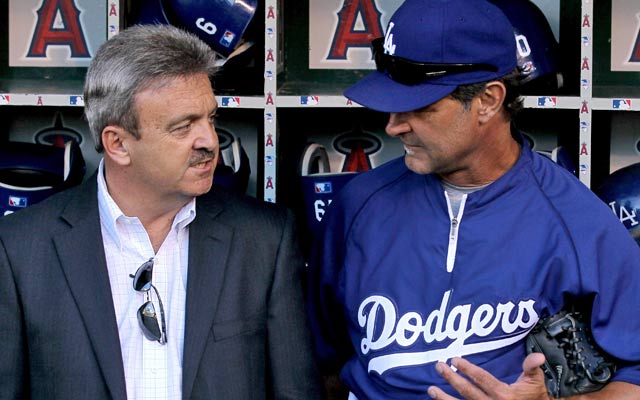 GM Ned Colletti (left) has steered the Dodgers to three playoff appearances.
(Getty Images)
The Dodgers are talking to general manager Ned Colletti about a contract extension, sources confirm. Bill Shaikin of the Los Angeles Times first reported on the discussions.
Colletti has had a spectacularly busy year that will be best recalled for the monster trade with the Red Sox that brought first baseman Adrian Gonzalez, pitcher Josh Beckett and outfielder Carl Crawford to Los Angeles in a nine-player deal that capped a whirlwind summer in which Hanley Ramirez, Shane Victorino, Randy Choate and Brandon League also were acquired by the Dodgers in trade. But as one competing baseball executive said, "The best move anyone made in the last year was that $160 million extension for Matt Kemp.'' That contract was done last November and kept Kemp in L.A. through 2019.
If that was perceived as a bargain, it seems even moreso now that the Dodgers added $300 million plus in a wild summer of spending.
Colletti declined to comment on the situation, and Dodgers president Stan Kasten texted back, "I never discuss anything about my GM. He's here. Period.'' Kasten had told the L.A. Times, "People should regard our management as stable and permanent.''
Dodgers owner Mark Walter, who led the Guggenheim group that spent a record $2.15 billon for the team in March, praised Colletti's diligence in the same story for completing the Gonzalez Red Sox mega deal that was a month in the making. The teams talked about a trade for Gonzalez in July, but the sides made it happen in August, when all three stars somehow slid through at least to L.A. on waivers (the Dodgers claimed A-Gone and Beckett, and Crawford cleared waivers). It was by far the biggest trade ever completed in the waiver period.
The mega trade hasn't paid immediate dividends, as the Dodgers are now 1 1/2 games behind the Cardinals in the race for the second wild card, but new ownership viewed the move as their best hope for the next couple years (among the stars acquired, only Victorino is a free agent after the year).
Colletti, who became the Dodgers' GM after the 2005 season, has made the postseason three times in his tenure in L.A. It was a lot different job until March, though, as the money-hoarding Frank McCourt, the old owner, led the storied franchise very differently, with both eyes on a tight budget.
Colletti's old contract contains an option for 2013. According to the L.A. Times story, he is expected to receive two guaranteed years in the new deal.
Show Comments
Hide Comments