Dodgers blues: LA has issues but not enough to warrant real worry
The Dodgers have some aches and pains and concerns. But they also have a ton of talent.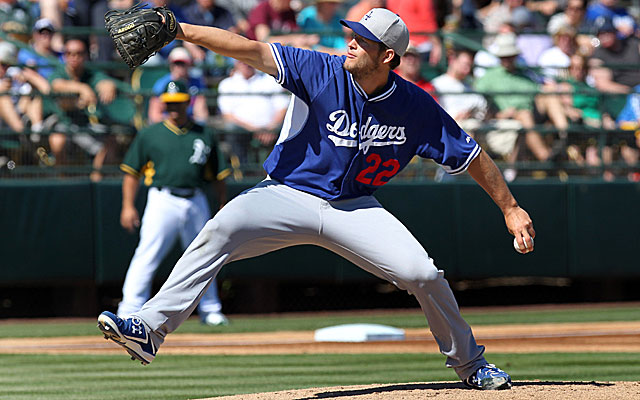 MORE: Spring Training | FA tracker: position players | FA tracker: pitchers
GLENDALE, Ariz. -- It's a beautiful blue sky here, and Dodgers great Tommy Lasorda might tell you it'll be a blue season, too. It's practically a given he'd say that, as the team that's the one percenter in the National League looks stacked and primed to make a World Series run after a year to understand how its amalgamation of superstars could jell into a cohesive team.
But while the Dodgers have to be considered the NL favorite, a few cracks are already starting to show. And don't think the Dodgers themselves haven't noticed.
Clayton Kershaw, who now has a spring ERA of 18.00, ripped himself after a second straight rough outing. Manager Don Mattingly laughed about Kershaw's idea of spring perfectionism, saying, "Somebody has to be a voice of reason, and say, 'this is spring training!' " before Mattingly himself pointed out that the whole team wasn't so hot in the 7-3 defeat Monday to the A's.
And Mattingly wasn't too happy about that, either.
"Yesterday's game was a little sloppy," Mattingly noted. "I'm glad it was just a spring training game. It tells us where we are. We've got to continue to get better."
There's a little more sense of urgency for the $220 million Dodgers this time around due to their truncated spring, which got going early (they were in Arizona almost by themselves at the start) and ends with a March 16 trip to Australia. Zack Greinke spoke out about how he hated the idea of starting the year in Austalia, and while it now looks like he won't have to, he's not the only one concerned how the unusual beginning to the season will affect them.
Excuse the Dodgers if they are a little on edge, but baseball's best and deepest team (at least on paper) does have its share of current concerns, some of which are just coming to light in the glare of the Arizona sun. In descending order of import, here is a rundown of the recent worries ...
Kershaw's two outings
He is not happy to be sitting here after two starts with an ERA more than six times higher than usual. "It doesn't matter ... but it does matter to me,'' Kershaw said on the day after his second straight defeat. "No matter if you're working on stuff or not, it's still no fun to pitch bad. I'd like to see some results.
While others around him were complaining about the umpiring, Kershaw described it thusly, "I lost it."
Mattingly pointed out that Kershaw wasn't so hot all spring training last year, and ended up doing "fine" (he won a second Cy Young award in three years to be more specific), and also how that mindset endears him to everyone around him. "That's what you love about Kersh," Mattingly said.
Lovable, yes. And ultimately, impenetrable.
The team looks sloppy
So what? This is spring training, after all. The only reason it's even mentioned is that the Dodgers are on a shorter timetable than anyone else, being just 18 games away from the Australian opener vs. the D-Backs.
Yasiel Puig is said to be heavier
He was reported to have weighed in at 261 pounds when he checked, which does sound a tad high for a guy expected to steal bases as well as hit homers. I can report this: He doesn't look particularly heavy, though, at least not Tuesday.
If anything, the Dodgers shouldn't be concerned about Puig's speed on the basepaths but his speed on the highways. But that's a story for another day.
Second base is a tryout camp
No less than five names were mentioned as being in the hunt at second base, between Cuban import Alexander Guerrero, plus Dee Gordon, Justin Turner, Chone Figgins and Miguel Rojas (the defensive specialist who made two errors in the "sloppy" outing Monday). Guererro had been the original thought, but the shortstop by trade hasn't taken to second quite as quickly as they had hoped.
"We're still at a point where we're still watching," Mattingly said of the second base camp. "I don't think anybody can say, "That's my position.''
Gordon seems to be holding a slight edge at the moment. He's up to 170 pounds, which is a big deal when you were 140 at your first Dodger camp. And more importantly, he is said to have adjusted very well to the position switch, which is the key; as Mattingly pointed out, the team is built around its pitching so defense is vital.
 "Dee hasn't played a ton of second base," Mattingly said. "But I think we're pretty comfortable with him at second base."
Mattingly said Gordon brings a "speed dynamic," but he might also surprise a few folks with the bat, too. "The ball's coming off his bat differently," catcher A.J. Ellis said. "And he's playing with a lot more confidence."
Zack Greinke's calf is still bothering him
Greinke felt the same Tuesday as he did Monday, and no date was set yet for a bullpen session. Calf injuries aren't ultimately serious but they are annoying, and this one is just that.
Matt Kemp still hasn't healed, at least not completely
Kemp received positive news recently when he learned that his ankle is healing after offseason microfracture surgery. They all believe things are "going in the right direction," Mattingly said.
However, until recently it was a slow straight line forward. Mattingly said Kemp is just now progressing from straight-ahead running to "some turns," and Mattingly recently conceded that Kemp wouldn't be ready for opening day.
That's a blow since Kemp at his best adds to the list of superstars that populate their dynamic lineup. But with a long line of mega talents, no team is better prepared to fill in the gaps. Puig, Andre Ethier and Carl Crawford, once and future All-Stars, represents an excellent outfield, as is. As it turns out, it's a good thing they never traded any of the outfielders after much discussion about it this winter.
The Dodgers do have problems, all right. But ultimately, they are problems that shouldn't derail this probable juggernaut.