Dodgers lose A.J. Ellis to DL; scratch Hyun-Jin Ryu from Sunday's start
The Dodgers have placed catcher A.J. Ellis on the 15-day DL and scratched left-hander Hyun-Jin Ryu from Sunday's start.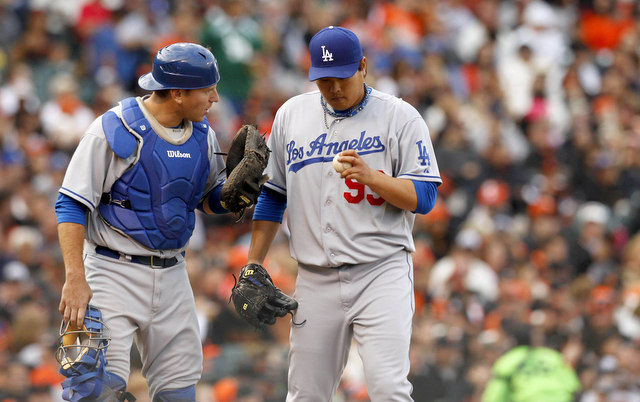 More MLB: Scoreboard | Standings | Probable Pitchers | Sortable Stats | Odds
The Dodgers have lost two more players to injury. Catcher A.J. Ellis was placed on the 15-day DL with a left oblique injury and left-hander Hyun-Jin Ryu has been scratched from Sunday's scheduled start with a sore left foot.
Ellis, 32, has been dealing with the oblique issue since the middle of the week. He's hit .262/.364/.369 (108 OPS+) with two home runs this year, starting 41 of the team's 54 games behind the plate. The team hopes he can return once the 15 days are up, but obliques are tricky.
Ryu, 26, was hit in the foot by a comebacker in his last start on Tuesday. X-rays showed no break and he threw light bullpen a few days ago, but the team decided to err on the side of caution. The Dodgers are hopeful he can make his next start and avoid the DL.
In 11 starts this season, Ryu has gone 6-2 with a 2.89 ERA and 1.13 WHIP. He's allowed just five runs total in his last four starts. The Dodgers spent over $61 million (posting fee plus contract) to acquire the left-hander from Korea this winter.
Right-hander Matt Magill was called up to fill Ellis' roster spot and start in place of Ryu. Magill, 23, has no record with a 5.50 ERA in four spot starts for Los Angeles this season. He has pitched to a 2.16 ERA with 11.2 K/9 in five Triple-A starts between big league stints in 2013. Magill is the ninth different starter the team has used this season.
The Dodgers are currently without starters Josh Beckett (groin, hand), Chad Billingsley (Tommy John surgery) and Stephen Fife (shoulder). Chris Capuano (calf) and Zack Greinke (collarbone) also missed time earlier this season. Position players Matt Kemp and Hanley Ramirez are both on the DL while Carl Crawford is day-to-day, all with hamstring problems.
Los Angeles is in last place in the NL West at 23-31. The Dodgers are 7 1/2 games back of the Diamondbacks for the division lead and 10 back of the wild-card spot.