Dodgers on their remarkable win streak: 'We had to do this'
The Dodgers knew they'd need "something miraculous" to overcome their awful start. Now they've had exactly that.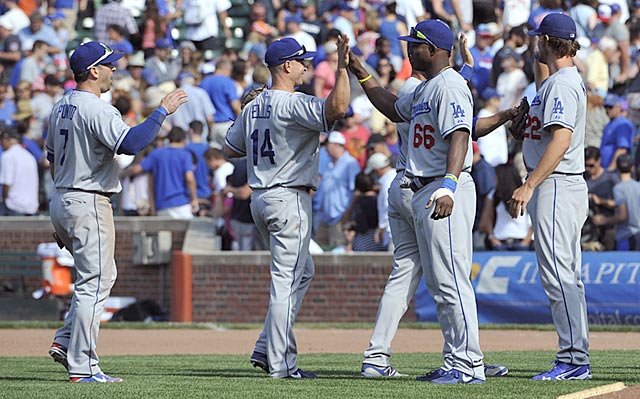 ST. LOUIS -- The Dodgers still see everything through the prism of May.
They just went a month between road losses. They haven't lost a series, home or road, in nearly two months. They've become the team many in baseball are picking to play in the World Series.
But they still can't pick the taint of May out of their clothes.
"We were so pathetic [then]," reliever J.P. Howell said Tuesday. "We had to do this."
This is a 15-game road winning streak, the longest in the National League in 56 years, which ended with Tuesday's 5-1 loss to the Cardinals. This is a run that took them through consecutive road sweeps in Arizona, Washington, Toronto and Chicago, with one win at the start in San Francisco and another one at the end in St. Louis.
It's the kind of streak that would have some teams loading up on superstitions, and others finding a catchy saying.
But the Dodgers seemed to have little or none of either.
"No 'Happy flight' stuff," second baseman Mark Ellis said.
He didn't mean that as a swipe at the Cardinals, who made "Happy Flight" their mantra a couple of years back. It was more just a statement of fact, and a statement on how the Dodgers seemed to view their good play and good fortune.
They viewed it, or many of them did, anyway, through the prism of all that went wrong two and three months back.
It wasn't just May, when the Dodgers had a worse record than the Twins and were only half a game better than the Astros. It was actually a two-month stretch from the middle of April to the middle of June, when they were 23-38.
Remember, this team was still in last place when June turned to July. Remember, as recently as June 21, the Dodgers had the same record as the Brewers and Cubs.
In spring training, manager Don Mattingly was telling them they should shoot for 100 wins.
"That was our goal," Mattingly admitted. "We talked about a formula for getting to 100. This wasn't it."
He tried to make winning 100 games sound easy, so he said that all you had to think about was going 3-2 and 3-2 and 4-2. Going 8-6 in every 14 games you play won't get you to 100, but 10-6 in every 16 games will.
"You've got a good club, why can't you go 10-6?" he would ask. "It's not that hard. Obviously, it is, but it doesn't seem like it."
Mattingly wondered aloud whether 100 wins was still possible, a remarkable thought for a team that was still at .500 at the All-Star break.
The answer is that it would take going 38-12 in the remaining 50 games, which sounds next to impossible until you realize that the Dodgers have gone 35-15 in their last 50 (after starting that stretch 2-6).
Mattingly was in danger of losing his job 50 games ago, as he acknowledged Tuesday when he said club president Stan Kasten had even raised the issue with him back then. Now, people rush to give him credit, which is nice, but the truth is that just as most of the blame for the early season struggles should go to the players (and to injuries), the credit for the revival should also go to the players (and to better health).
"Hanley [Ramirez] got healthy, [Yasiel] Puig got here, and it just changed everything," Zack Greinke said.
Greinke is as honest as any player in the game, and he'll tell you that winning 15 straight road games required "a lot of luck." But he also credits the bullpen ("I may be wrong, but I think their ERA is like zero in that time"), and Puig and Ramirez.
"Look at how good Hanley's played at shortstop," he said. "He's been much better than what I had thought. He just seems happy on the baseball field."
Ramirez has missed the last two games after jamming his left shoulder on Sunday in Chicago, but Mattingly said he had improved enough that the Dodger medical people haven't even sent him for an MRI. That's right, the Dodgers are going so good now that even their injuries don't seem that bad.
As it turns out, they won't break the all-time record for consecutive road wins (17, by the 1916 Giants and the 1984 Tigers), but as cool as that sounds, the Dodgers don't seem to have been into the number.
They woke up Tuesday and realized that they had a six-game lead in the National League West, and catcher A.J. Ellis made the point that any team in baseball would think a six-game lead on Aug. 6 was a pretty good thing.
For a team that was looking at a 7½-game deficit on June 6, and a 9½-game deficit on June 22, it's more than just a good thing.
"We knew we had to do something miraculous," Ellis said.
Record streak or not, they have done something miraculous.
"We feel like we can win every day," Mattingly said. "And we pretty much have."
They've done everything except come up with a catchy saying.
"That's probably for September," Howell said. "We've been too worried about making up for what we did early. We'll get to the fun stuff later."
In the meantime, they're doing some pretty fun stuff now.